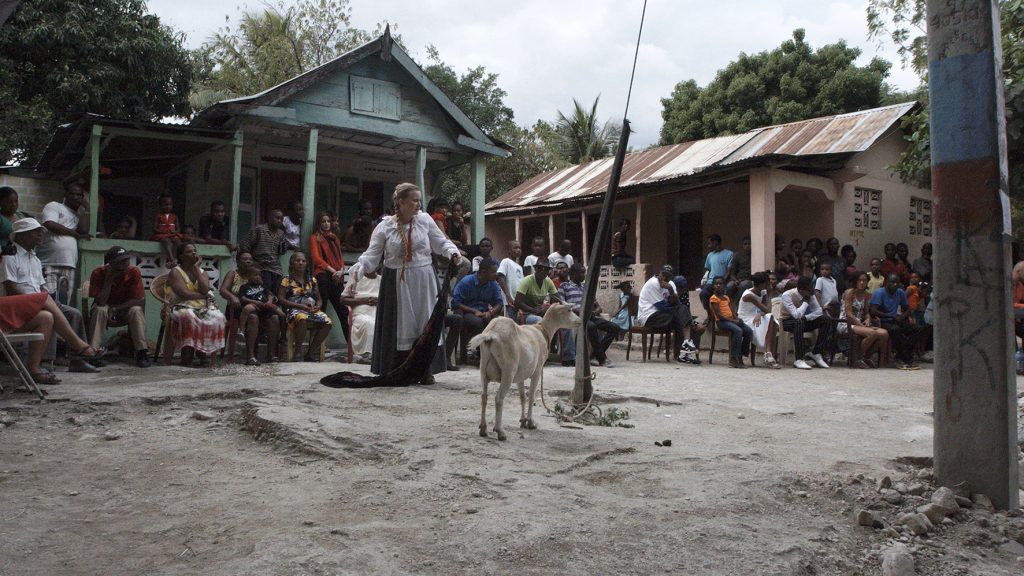 168 years after its premiere, in Vilnius, the Polish opera Halka returns to the city—albeit in a very particular form.
A tragic love story composed by Stanisław Moniuszko during Russian occupation of Poland-Lithuania, Halka was recently staged in Cazale, Haiti for "Le Polone"—the descendants of Polish soldiers who fought for the Haitian Revolution in early 19th century. Sent to Saint-Domingue by Napoleon to put down the slaves' rebellion, the Poles—who had joined Bonaparte to fight for the independence of their own country—are believed to have united with the local insurgents. As a result, the Poles were granted an honorary status of blacks and settled in Haiti, where their descendants still live today in a mountain village of Cazale.
A collaboration between Polish opera singers and Haitian dancers and musicians, this unusual performance was documented on film, and is now shown in Vilnius as a large-scale projected panorama. The project was originally created for the Polish Pavilion at the 2015 Venice Biennale, where it was presented as an inquiry into the power of traditional artistic forms in constructing national identities—especially in a complex postcolonial context.
Bringing Halka/Haiti back to Vilnius adds a post-imperialist element to the story, further complicating the image of the national identity that the opera was supposed to represent. Considered a fiasco after its 1848 Vilnius premiere, Halka only achieved critical acclaim in Warsaw, a decade later. Now, the Polish national opera returns to Lithuania via Haiti—a rather unexpected twist in the complex, interwoven histories of the two neighboring countries.
Born in Poland, C. T. JASPER is an artist who splits his life between New York and Ulan Bator. His works oscillate between various mediums, focusing principally on video and electronic-partisan interventions in already existing film works. Jasper's previous projects include Erased (2013), Sunset of the Pharaohs (2014), and Vertigo (2015). His works have been presented in exhibitions in North America, Europe, Asia and the Caribbean, most recently in "Relations Disrelations" (2015), a two-person survey show with Joanna Malinowska at Muzeum Sztuki Łódź in Poland, and at the 56th Venice Biennale — with Halka/Haiti: 18°48'05″N 72°23'01″W (2015), also shown at: the IV Ghetto Biennial in Port-au-Prince, Haiti; Goteborg International Biennial for Contemporary Art in Sweden; "Imagined Communities: Personal Imaginations" in Budapest, Hungary; and at the Krasnoyarsk Museum Biennial in Russia. Malinowska and Jasper are continuing their collaboration, working on a new research project dedicated to tracing presence of African artifacts in the former People's Republic of Poland.
Born in Poland and based in New York, artist JOANNA MALINOwSKA works in sculpture, video, and performance. Her projects—often inspired by interest in cultural anthropology, cultural clashes, and music—have been exhibited in both solo and group exhibitions in the United States, Europe, Asia and the Caribbean, at venues including the Sculpture Center, Art in General, Postmasters, and CANADA in New York; Espace Culturel Louis Vuitton in Paris; Saatchi Gallery and Nottingham Contemporary in Great Britain; Centre for Contemporary Art Ujazdowski Castle and Zachęta—National Gallery of Art in Warsaw. Her works were also included in the First Moscow Biennale (2005), Performa '09, the 2012 Whitney Biennial, and the 56th Venice Biennale (2015). A graduate of the sculpture departments at Rutgers University and Yale School of Art, Malinowska has received awards from the John Simon Guggenheim Foundation, the New York Foundation for the Arts, Smack Mellon, the Pollock-Krasner Foundation, and the Polish Ministry of Culture and National Heritage, among others. She is represented by CANADA gallery in New York, and frequently collaborates with her partner C.T. Jasper.
Saturday 30 January at 3 pm
Bringing a Polish National Opera to the Caribbean: The Making of Halka/Haiti. A lecture by curator Magdalena Moskalewicz
The curator of the project "Halka/Haiti: 18°48'05″N 72°23'01″W", (prepared for the 56th Biennale di Venezia), Magdalena Moskalewicz, will discuss the history of Polish presence in Haiti, connections between the opera Halka and the Haitian Revolution, the Polish-Lithuanian presence of Stanisław Moniuszko, and what went on "behind the scenes" of producing this complex project between Poland, Haiti and Venice.
MAGDALENA MOSKALEWICZ is an art historian, critic and curator. She is currently Visiting Professor in International Art Histories at Carnegie Mellon University in Pittsburgh. In her scholarly, editorial, and curatorial work, Moskalewicz critically investigates local art histories and representations of national identities in order to reshape and revise dominant historical narratives. To that end, she led the Central and Eastern European branch of The Museum of Modern Art's (MoMA's) global research initiative, C-MAP, and co-edited the project's digital publication platform, post (from 2012 to 2015). Awarded a PhD in art history from Adam Mickiewicz University for her research into the Polish neo-avantgarde of the 1960s, Moskalewicz has published and lectured internationally on Polish abstract painting, assemblage, and conceptual art. She has also published on more contemporary practices, recently on the work of Kosovar artist Sislej Xhafa. Moskalewicz curated the Polish Pavilion at the 56th Venice Biennale, with the highly acclaimed "Halka/Haiti: 18°48'05″N 72°23'01″W", in collaboration with the artists C.T. Jasper and Joanna Malinowska. Currently, she is further exploring the issues of travelling, migration and displacement in relation to identity formation for her upcoming exhibition titled "The Travelers," scheduled to open at Zachęta–National Gallery of Art in Warsaw in May 2016.
Illustration: C.T. Jasper & Joanna Malinowska, Halka/Haiti. 18°48'05"N 72°23'01"W, 2015. Still from a multichannel video projection. Photography by Barbara Kaja Kaniewska and Mateusz Golis. Courtesy of the artists and Zachęta–National Gallery of Art.