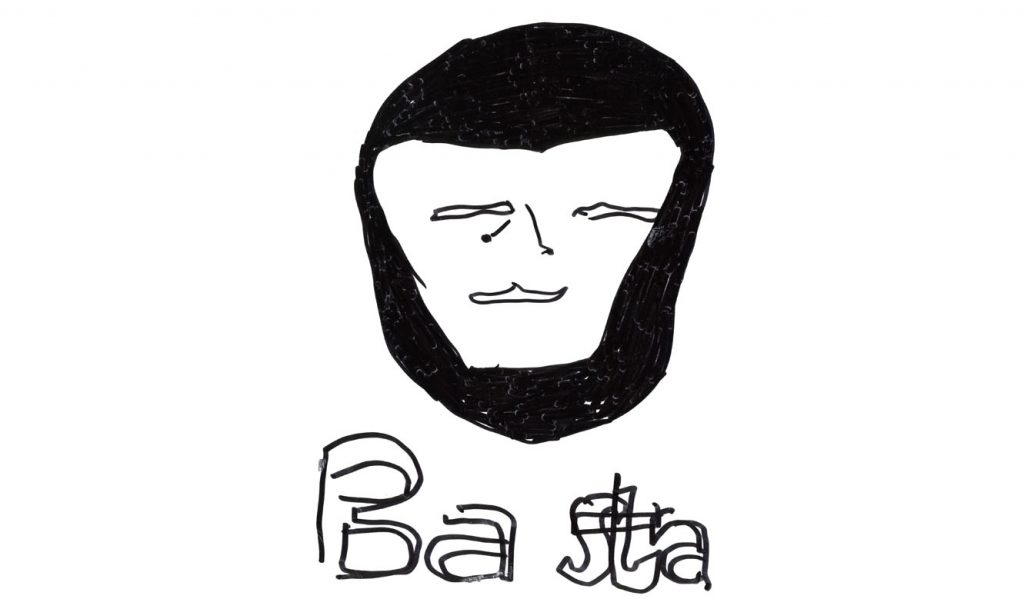 # 1
2011.12.16 Friday (15.00 – 18.00)
Egyboy book "BASTA" presentation.
Edition 20. Handmade: Jurga Sako
LITHUANIAN RAILWAY MUSEUM
Second floor in Vilnius railway station's passengers building
Geležinkelio st. 16, Vilnius.
Trip through memories, roads and paths, bridges, tunnels, buildings, rolling-stock, carriages and photographs, notes, drawings and markers from Egyboy's 6 year collection. Spikes, screws and tough springs, buffer of old locomotive, helical mechanism of carriage connection, handmade locomotive machinist's tool boxes, grease-box, locomotive machinist's reliquary sack, cardboard and strings, tilt and glass spilt with petrol, railway transport alarm, forbidden walls, signs and other objects. Egyboy runs runs…
# 2
2011.12.16 Friday (20.00 – 22.00)
CAC READING ROOM KICKS
Contemporary Art Center, Vokiečių st. 2, Vilnius.
"MARKERS, BOMBERS AND SURVIVAL". The big survival:
"BASTA" book installation,
Guest "KAUNO MAŽYTĖ".
Egyboy objects from drawings: "Step by Step", "Paris is Burning", "Cross Incident" in collaboration with Vytautas Viržbickas (sculptor).
BASTAWALK: "BOMBERS COLLECTION" customised jackets on six BASTA characters + one hour each day. Design: Aušra Urbanavičiūtė x Egyboy.
EVENING RAP FROM THE NEIGHBORHOOD: BONZIK / SKORPAS
In a church of totally indifferent god (CAC), where meanings are devised through architectural and material decisions, Egyboy presents cascade of human happiness. Some time ago, in the years of World War II, when allies were bombarding the mother land, disappointed with triumph of will, passive nihilist Ernst Jünger on the hotel roof was drinking champagne and greeted death spreading sunrise of Western culture and humanity. Later these nihilistic decadent suns, reversed side of the dream, taught to be grateful for each dream by adding to it post-, post-, post-…
Despite absolutely any "isms" and professor Camel tears, today a dream or Egyboy post-war destiny in CAC reading room will frame the reversed and inimitable side of our everydayness.
Friday with no future: otkri mozgi, podary mne mectu, podary mne solnce, trip slides between Paris gleaming arrows, Art teenager on the go, fall into darkness, wake up differently, cast a line, hook a fortune, step by gleaming step, izviny…
–
In cooperation with Jurga Daubaraitė and Auridas Gajauskas
–
Exhibition sponsor: furniture company "Vildika"
_
All Arts © Egyboy, E. Praspaliauskas Project, Cultural stipend. 2010-2011, Vilnius.
For alternative payments or ordering books, other minds or inquiries
please contact: [email protected]