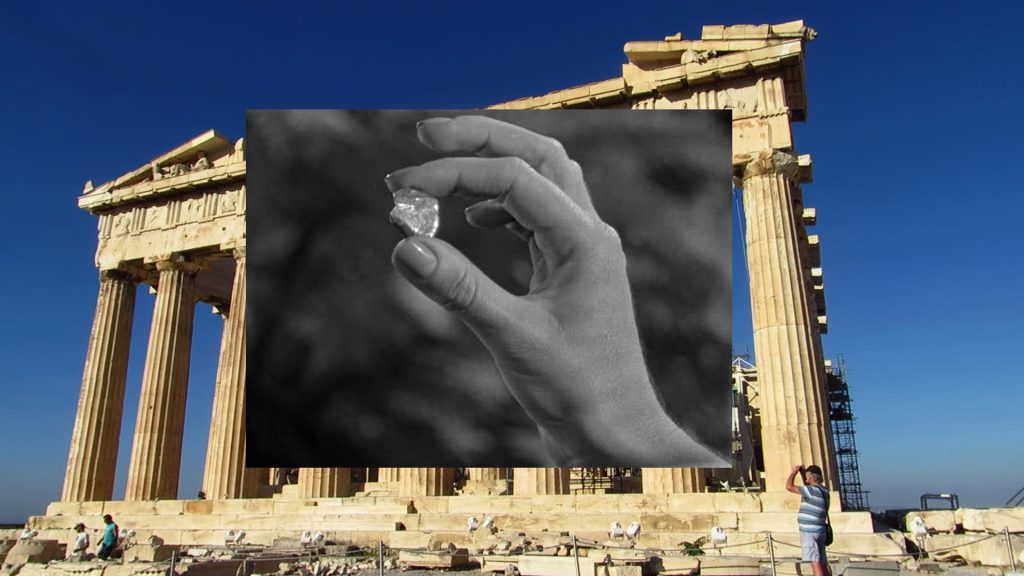 The exhibition takes place in the South Hall of the CAC with two video works by the artist, which accurately outline her artistic interests and elaborately reveal her professional language.
A large part of Cortiñas' practice revolves around a perpetual challenging of cinematic memory, analysing and re-editing pre-existing footage and intertwining it with a meticulous montage of the artist's own material.
The first artwork visitors encounter in the exhibition is the three-channel video from 2016 titled The Most Given of Givens. This eleven-minute long video takes the Tarzan film-saga as its starting point to display and question the idea of Otherness created by the Hollywood studio machinery. Employing a wide range of found footage ranging from Hollywood films, to Walt Disney productions, to widely celebrated French cinema and some of the first African films, Cortiñas questions the ethnocentric gaze deployed in western cinema. The miscellaneous imagery of the installation relies strongly on excerpts from Alain Resnais, Chris Marker and Ghislain Cloquet's film Statues Also Die (1953). The ambivalent figure of Tarzan embodying western white male features is entangled with an un-comprehensive, unarticulated naturalisation of the wild and the unknown.
Cortiñas' interest is further disclosed in the second video shown in the exhibition, The One Who Walks (Quella Che Cammina) from 2014. Here, the artist mixes again found footage with her own recordings. For the first time in her body of work, sceneries of abstract sculptural objects are employed as references, containers for the inner struggle of the protagonists. The central figure of the piece is borrowed from Carlo Lizzanis' film Paid Love, which is part of the six-segment Italian anthology Love in the City (1953). In Lizzani's film an aging prostitute in the final stages of her career continues roaming nocturnal streets searching for customers in vain. Cortiñas not only appropriates this figure by using it to underline the representation of the female body as a commodity, but appropriates it a second time by adding a layer of her personal story through lip-synching.
The two videos, presented as installations in a black-box format, create a focused cinematic experience. The exhibition invites visitors to reconsider their own gaze within the proposed cinematic imagery and to find new, and perhaps more subtle, narratives through the complex kaleidoscope conceived by the artist.
Eli Cortiñas was born in 1979 in Las Palmas de Gran Canaria, Spain and lives and works in Berlin. She studied at the Academy of Media Arts Cologne and at the European Film College Ebeltoft, Denmark. Selected solo exhibitions include Double Feature: Eli Cortiñas, SCHIRN Kunsthalle, Frankfurt/Main; The most given of givens, Waldburger Wouters, Brussels; PLAYBACK: Eli Cortiñas & Lynn Hershman, Autocenter, Berlin; Contemporary visions: Eli Cortiñas, DA2, Salamanca; 12 x 12, Berlinische Galerie, Berlin. Her work has been part of several group exhibitions, such as the Riga Biennial of Contemporary Art, Riga; Focus Eli Cortiñas, International Film Festival Gijón; The human condition, Museum of Modern Art, Moscow; Prospectif Cinéma, Centre Pompidou, Paris; Melancholia, Villa Empain, Fondation Borghossian, Brussels; Karl Schmidt-Rottluff Stipendium, Kunsthalle Düsseldorf; Film Footage Photography. Museum für Photographie, Braunschweig; Ten emerging artists. Contemporary experimental films and video art from Germany, Goethe Institute Toronto.
Eli Cortiñas has received grants and fellowships from Beca Fundación Botin (2018), Berliner Senat (2017), Villa Sträuli (2017), Villa Massimo Rome (2014), Karl Schmidt-Rottluf (2012-2014), Shortlist Award for Young Film Art, Freunde der Neuen Nationalgalerie und Deutscher Filmakademie (2011). She had a focus retrospective this year at the International Film Festival Gijón.