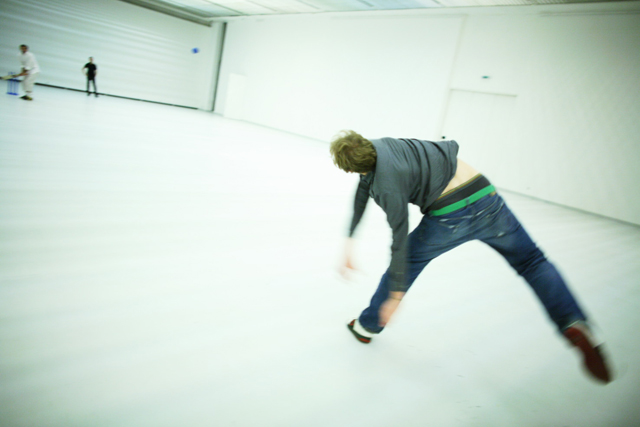 Artists:
Quentin Armand (FR),
Oliver Bragg (UK),
Juozas Laivys (LT),
Darius Mikšys (LT),
Flávia Müller Medeiros (UK),
Nicolas Simarik (FR)
'Holiday' in is a project that began in March 2007 when six artists (two from Lithuania, France, United Kingdom) left their home countries to become professional travelers. The international art organisations triangle france (Marseille), Gasworks (London) and CAC (Vilnius) acted as travel agents for the artists to take two-three month holidays. Oliver Bragg (UK) and Juozas Laivys (LT) travelled in France; Nicolas Simarik (FR) and Darius Mikšys (LT) in Great Britain; Quentin Armand (FR) and Flávia Müller Medeiros (UK) in Lithuania.
Their times were spent in very different ways, each responding to holidaying through work that is on show at the three venues in exhibitions from September–October in Marseille and London, and in Vilnius from November. Visiting Lithuania was Quentin Armand who found it easy to fail to fulfil holiday wishes by being on vacation during the off-peak season in the depths of the Lithuanian countryside where he found everything to be closed. Flávia Müller Medeiros spent time in the capital cities of the Baltic region, and focused her interest on the borders of Belarus, making a book based on her interaction with a student at the European Humanities University that relocated to Vilnius after its forced closure by the government in Minsk.
Darius Mikšys decided to take a holiday from being an artist and enrolled in cricket lessons to find a new vocation, and Juozas Laivys traveled through France doing deeds and making woodcarvings capturing the moments. Oliver Bragg spent his time in Paris trying to absorb the bohemian kudos, and Nicolas Simarik went on other people's holidays in Britain. Simarik ended up visiting the Islands of the British Isles – Wight, Mann, Hebrides.
Each exhibition has different work by each artist musing on their experiences and the notions of holidays, using media ranging from participatory performance, video, sculpture, woodblock prints and more. For Vilnius, Darius Mikšys invites people for a game of cricket in the main hall; Flávia Müller Medeiros presents a group portrait of the politically displaced EHU students along with her book Irka; Juozas Laivys' prints join Oliver Bragg's collection of drawings and painted sketches; Nicolas Simarik casts his shadow wherever he goes and Quentin Armand reflects on the national sport of Lithuania.
Opening Friday 09 November 2007, 18:00
A full colour catalogue accompanies the exhibition that will be available from the CAC for the duration of the exhibition.
A workshop and public discussion will take place on Saturday 10 November 2007, 14:00 at the CAC moderated by curator Catherine Hemelryk