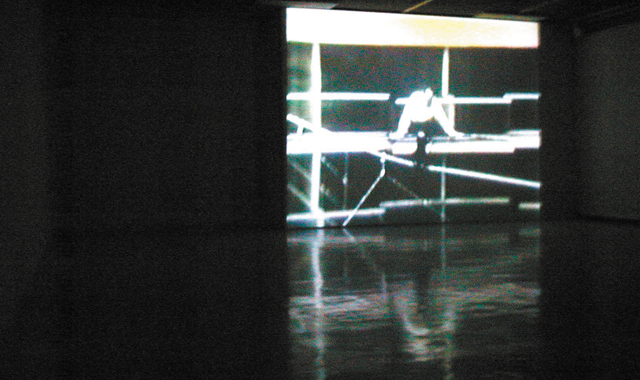 Curator: Deimantas Narkevičius
Joao Penalva was born in 1949 in Lisbon. From 1976 to 1981 he studied at the Chelsea College of Art and Design in London. Since 1976 he has lived and worked in London.
The world-known Portuguese artist presented two video installations: Wallenda (1997-98) and Mister (1999).
Wallenda was a large-scale work created after long and consistent rehearsals with professional musicians. For this work Penalva himself whistled out 'The Holy Spring' by Igor Stravinsky – the score for the ballet created in 1912-13. In the installation the recording of the whistling was accompanied by the graphic sound image produced by an equalizer and a video projection showing the aged rope walker Great Wallenda who decided to appear before the public in 1979 and walk on a cable spanned in the height of 40 m between two hotels in the capital of Puerto Rico San Chuan.
Mister was a totally new video film by Penalva, the premiere of which was planned specially for Vilnius. The artist said that the idea of Mister was related to an insignificant event. 'Mister has its roots in a small and funny incident. It happened that once, years ago, as I was leaving a London pub, I overheard an English and drunken sounding woman talking about me to her companion."There goes another lost soul…Another Paddy." were her words. That she could have taken me for an Irishman was so baffling that it started in me the thought of "being" Irish as a role like any other I might want to play in my work.'