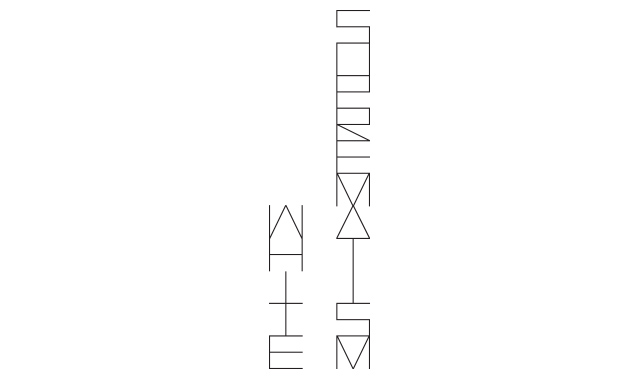 A horizon with thousands of white flat-steel elements—2 mm to 110 mm thick and 6 cm to 240 cm tall, appearing in numerous sizes and variations, all complete with anonymous faces—stretches across the one-thousand-square-metre Great Hall of the Contemporary Art Centre in Vilnius. Standing, seated or kneeling, bent or twisted, on their own or with company, or in monumental stacks of stiff acrobats, the steel elements become the architecture themselves, thus revealing the building's genesis in 1968. The mass of the elements' whiteness strips the CAC's supposedly white hall of its assumed role as a white cube. In the presence of this multitude of anonymous, perfectly uniform elements, the vast, seemingly neutral space is subjected to reveal its dilapidated surfaces and paradigmatic monumentality of the Soviet modernist project. The white figures occupying the hall awkwardly stage their utopian physicality, performing a mass Socialist ritual showcasing their victory against the laws of physics, demonstrating the supremacy of engineered bodies, technologies and souls. The white elements are infantile, dysfunctional and passively aggressive; their multiplicity induces a dry, suffocating mental state of diligent stagnation permeating the everyday, echoing difficult histories of invisible control, past and present, local and global. This is "White Suprematism", an exhibition by Jos de Gruyter & Harald Thys.
Assuming the role of architects or planners, Jos de Gruyter & Harald Thys choreograph the process of production by embracing the machinery and the complex relationships they have set up: the labour of numerous people, who mediate between the artists and the post-Soviet steel industries in order to produce something that none of them have done before. By staging similarly detached and tense scenarios in their work, typically inhabited by impassive characters—humans, puppets or objects—the artists create tragicomic portraits of contemporary society and humanity. Grotesque and absurd elements mixed with ordinary social codes evoke the most subtle, yet pressing, subjects of the contemporary human condition: conformity and obedience, standardisation, permanent exhaustion and the illusion of efficiency, and the fine line separating stupidity and evil.
Jos de Gruyter (b.1965, Geel, Belgium) and Harald Thys (b. 1966, Wilrijk, Belgium) have collaborated as an artist duo since 1987. Originally starting out as video-makers, de Gruyter & Thys work in a variety of different media spanning video, photography, drawing, sculpture and installation. De Gruyter & Thys' work has been presented in numerous institutions worldwide, with solo exhibitions held at CCA Wattis Institute for Contemporary Arts in San Francisco (2015), MoMA PS1 in New York (2015), Raven Row in London (2015), Vienna Kunsthalle (2014), M HKA in Antwerp (2013) and Mu.ZEE in Oostend (2012); and have been included in the 2013 Venice Biennale and the 2008 Berlin Biennale among many others.