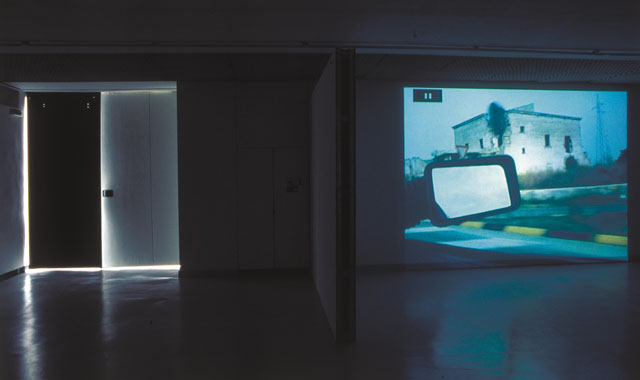 In all works by Josef Dabernig the central plot is distinctly developed. In his films, from beginning to end, one simple action is being performed. As the whole film is devoted to this simple action, it becomes extraordinary from the viewpoint of the developing plot, which is unpredictable, but determined by a clear logic of the concept. Though these films lack dialogues or monologues, they are narrative – it is the language of the filmed movement. The actors' gestures and movements are not performed, in other words, not played with suggestion, as is common in feature films. Persons who appear in a frame perform a task, whose accomplishment decides the suggestion of their actions.
Josef Dabernig's films balance in between director's cinematography and the documentalism of the performances done by the artist himself and his friends on a 16mm film.
The works presented in this exhibition in five video projections were created from 1996 to 2002.
List of works:
WISLA (Josef Dabernig)
1996 – 16mm to DVD, b/w, 8 min
TIMAU (Josef Dabernig / Markus Scherer)
1998 – 16mm to DVD, b/w, 20 min
music: Olga Neuwirth
JOGGING (Josef Dabernig)
2000 – 35mm to DVD, color, 11 min
WARS (Josef Dabernig)
2001 – 16mm to DVD, b/w, 10 min
AUTOMATIC (Josef Dabernig / G.R.A.M.)
2002 – 16mm to DVD b/w, 7 min
music: Binder&Krieglstein