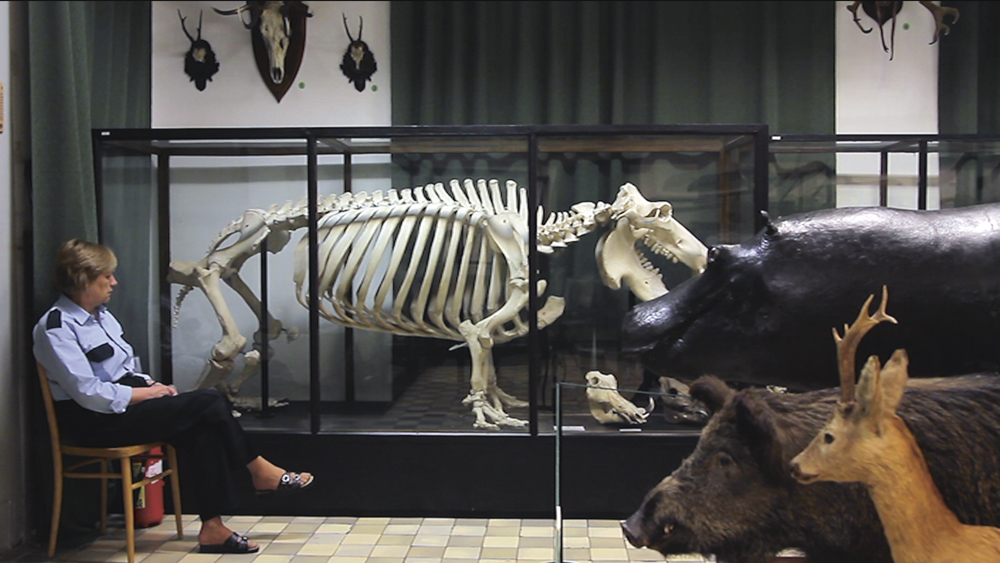 "Labour in a Single Shot" is a 21st century encyclopaedia of human labour that represents labour processes in fifteen countries over five continents. Previously shown in 20 cities worldwide to critical acclaim, including the Venice Biennale in 2015, "Labour in a Single Shot" now comes to Vilnius. The exhibition is followed by Harun Farocki's film screenings for adults and children in the CAC Cinema.
During a three-year period of travel around the globe video artist Harun Farocki and curator Antje Ehmann invited over 400 filmmakers to investigate labour processes in their countries and near surroundings. What labour is traditional, and what is new? What is paid and unpaid, physical and intellectual, formal and informal, material and immaterial labour? Filmmakers and video artists in North and South America, Africa, Asia, and Europe attempted to find out what the concept of "labour" means today.
Three rules set up the framework for participants of workshops that took place in various cities: the footage must cover labour issues, the video length should not exceed two minutes, no cuts are allowed. The results of the project have been shown in exhibitions full of glimmering screens with each representing a different city: Bengaluru, Berlin, Boston, Buenos Aires, Cairo, Geneva, Hangzhou, Hanoi, Johannesburg, Lisbon, Lodz, Mexico City, Moscow, Rio de Janeiro, and Tel Aviv.
"If I wish to explain for an extra-terrestrial being from another planet, how our world looks like, what labour instruments on the Earth the human uses and what s/he eats, as well as what goes on in 15 spots around the world at the same moment, I would send her/him a selection from these 450 films. Or even better, all of them at once," an American TV producer and director Prof. Geoffrey Poister has said about the exhibition.
The Berlin-based video artist Harun Farocki passed away unexpectedly on 30 July 2014, just six weeks after the final workshop. Fellow Berlin-based artists Alice Creischer and Andreas Siekmann who contributed to the project by designing pictograms then stated: "By his last great project Harun wished to embrace the whole world."
The opening of the exhibition at the CAC is followed by screenings of Harun Farocki's film Arbeiter verlassen die Fabrik (Workers Leaving the Factory, 36 min., 1995) in the CAC Cinema. The film will be looped throughout the entirety of the opening night, and on the opening weekend, 17 & 18 June. Screenings begin on the hour from midday/with the final screening starting at 7pm. A further screening session is planned for the finissage weekend from 4 to 6 August.
During the course of the exhibition CAC and Goethe-Institut will introduce the audience to the issues of labour as portrayed in Farocki's oeuvre with the following screenings:
21 June at 6pm: Zum Vergleich (In Comparison, 61 min., 2009)
22 June at 6pm: Sauerbruch Hutton Architekten (Sauerbruch Hutton Architects, 73 min., 2014)
23 June 23 at 6pm: Nicht ohne Risiko (Nothing Ventured, 50 min., 2004).
All films are screened in their original language with English subtitles.
The children's film programme parallel to the exhibition is yet to be announced.
For the first time since Farocki's death, the workshops will resume in Vilnius. The Vilnius workshop is facilitated by documentary filmmaker Eva Stotz, who will continue the project at the invitation of Antje Ehmann. It will start on 12 July 2017 in collaboration with Contemporary Art Centre (CAC) and Audiovisual Arts Industry Incubator (AMII).
HARUN FAROCKI (1944–2014) was a prominent German filmmaker, author and lecturer. Starting in 1966 he directed more than 100 films for television and cinema including documentaries, film essays, video art installations and even some recently discovered television shows for children. Since 1996 he took part in significant exhibitions in museums and galleries all around the world, including Manifesta 11, documenta 12 and the Venice Biennale, among others.
ANTJE EHMANN (b. 1968, Germany) is a curator, author and artist, who lives and works in Berlin. She was an active collaborator with Farocki for many years. Her most recent curated exhibitions include: "Harun Farocki. Another Kind of Empathy" (with Carles Guerra), Fundació Antoni Tàpies, Barcelona (2016), "Harun Farocki. What is at Stake" (with Carles Guerra), IVAM, Valencia, Spain (2016), "Labour in a Single Shot" at the 56th International Art Exhibition La Biennale di Venezia (2015), Haus der Kulturen der Welt, Berlin (2015), MUAC, Mexico City (2014), and Tel Aviv Museum of Art (2013). As well as: "Harun Farocki. 4 films from 1967–1997. An Homage" in àngels barcelona (2014), "Between Eye and Hand" in the Hotel Pythagoras, Samos, Greece (2012), "Serious Games. War – Media – Art" in Mathildenhöhe, Darmstadt, Germany (2011), among many others.