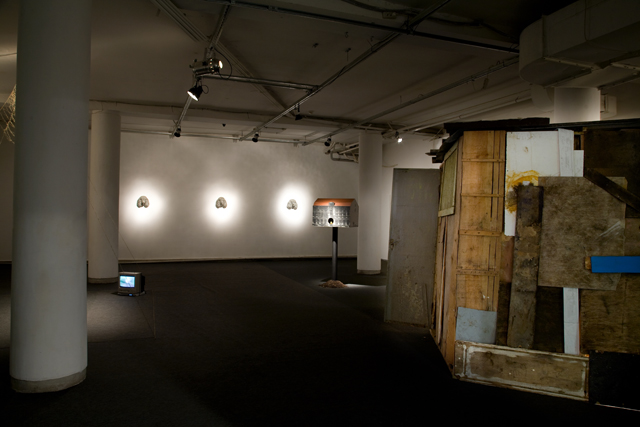 Artists and works:
Gediminas G. Akstinas, Links
Žilvinas Danys, Torsion
Kipras Dubauskas, Observation of Memory
Kazimieras Sližys, CCTV
Justė Venclovaitė Poodle, Untitled
It might be said that the keywords 'leaps' and 'loops' not only define the creation and organisation of this exhibition, but also indicate the relationships between the exhibition as a whole to its parts (the works), and how the audience reacts to the exhibition (and to individual works).
In a basic sense, the word 'leap' refers to the fact that these students' works have been shifted from one institution (The Art Academy) to another (the CAC). In a similar manner, the keyword 'loop' might be read as a metaphor for the hermetic, entropic state of affairs at the periphery of art and culture. But it would be more precise and productive to think of the leaps of thought that occur in the minds of the visitors as they travel between the different artworks.
As for the 'loop', one immediately remembers Joseph Kosuth and his idea that conceptual art is tautology. According to Kosuth, artworks are created in a search for new understandings of the notion of art. But the participants of this exhibition successfully leap over the trap introduced by such a definition and create narratives far more interesting than solely questioning definitions of art. A more positive definition of a 'loop' could be the following: that we consciously 'loop' the things we love. Yet another definition may be applied to the exhibition as a whole: despite the fact that separate works in the exhibition invite one to drift away from linear thinking and consistency, traditionally the very format of exhibition is perceived to be linear (in the way the audience moves through a space, or in the sense that the concept of the exhibition unites all of the exhibited artworks).
In any case, the discussion about leaps and loops should also include the visitor – meaning, you – because all of these ideas arise and come into being after an encounter with the artworks and the exhibition. Therefore 'leaps' and 'loops' remain open metaphors that demand responsibility from, and create challenges for, both the artists and visitors alike.