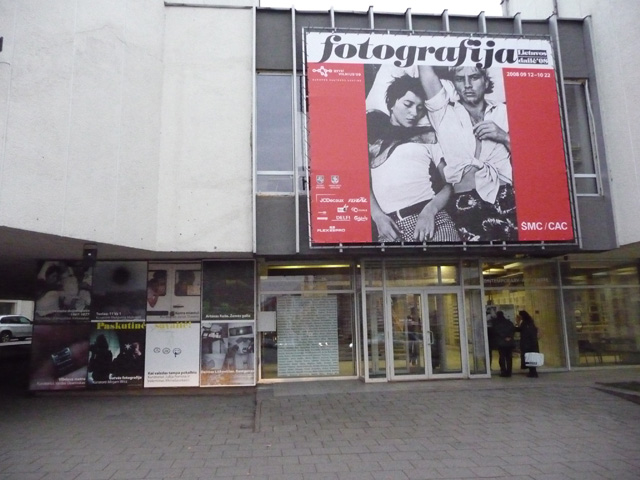 Lithuanian Art '08: Photography
An introductory platform of the X Baltic Triennial of International Art 2009: Urban Stories
12 09 – 22 10 2008
Every two years the Contemporary Art Centre presents a review of current Lithuanian art: in 2008 the exhibition has a special focus on photography. The multi-part exhibition, developed by seven curators, presents the work of more than 100 artists – including two solo expositions and a snapshot of recent Lithuanian photo-journalism. This dynamic exhibition presents a range of photography from the 1960s to the present produced by three generations of Lithuanian photographic artists engaging a range of genres and conceptual concerns. The exhibition is accompanied by the autumn/winter issue of CAC Interviu magazine which acts as a catalogue for these events.
The Golden Decade of the Magazine Nemunas 1967–1977
Curator: Romualdas Rakauskas
Artists: Marius Baranauskas, Algimantas Bitvinskas, Juozas Budraitis, Zenonas Bulgakovas, Vitalijus Butyrinas, Evaldas Butkevičius, Algimantas ir Mindaugas Černiauskai, Aleksandras Dabkevičius, Rimantas Dichavičius, Gintaras Jaronis, Jonas Kalvelis, Rimas Linionis, Kazimieras Linkevičius, Vitas Luckus, Aleksandras Macijauskas, Vilius Naujikas, Romualdas Požerskis, Romualdas Rakauskas, Liudas Ruikas, Vytautas Stanionis, Vytautas Stankevičius, Vaclovas Straukas, Antanas Sutkus, Vytautas Šeštauskas, Aldona Šeštauskienė, Virgilijus Šonta, Alvydas Urbonas, Vladas Urbonas, Vladas Uznevičius, Rimaldas Vikšraitis, Audrius Zavadskis.
Nemunas, the art and literature magazine for youth was launched in 1967 and unexpectedly became the one of the most popular publications in Soviet Lithuania. From the outset, photography was given an exceptional place in Nemunas, which not only illustrated articles, but had a special segment as an independent art form, and nude photography soon became the emblem of the magazine. The publication of Nemunas coincided with a turning-point in Lithuanian photography – young artists rejected earlier-modes and started experimenting with content, form and finally established 'art' photography as a creative activity equal to other art forms.
Romualdas Rakauskas was the editor of photography segment from issue one through the magazine's cessation in 2004. For this exhibition he has selected the works by the most productive and creative artists of Nemunas as well as individual photographs, which represent famous pages from the magazine. This exhibition is a mirror, which reflects the history of Lithuanian photography through Nemunas.
Test: 11 vs 1
Curator: Margarita Matulytė
Artists: Vytautas Balčytis, Ugnius Gelguda, Ilja Fišeris, Povilas Karpavičius, Remigijus Pačėsa, Saulius Paukštys, Antanas Sutkus, Algirdas Šeškus, Gintautas Trimakas, Raimundas Urbonas, Gintaras Zinkevičius
The exhibition consists of works by three generations of photographers working from the mid-20th century though to today in several genres of the photographic medium. Each of the photographers works in a manner that resists mainstream expectations and has advanced Lithuanian photography in some way. Several of them have also resisted social and political expectations in their work using photography's potential to reflect and disrupt reality to creative ends.
Passion for the City
Curator: Jonas Staselis
Artists: Algimantas Aleksandravičius, Vidmantas Balkūnas, Baltijos fotografijos linija (Šarūnas Mažeika, Andrius Ufartas, Tomas Urbelionis, Kęstutis Vanagas), Ramūnas Danisevičius, Vladimiras Ivanovas Herkus Milaševičius, Michail Raškovskij, Jonas Staselis, Simonas Švitra, Tomas Urbelionis, Saulius Žiūra
Press photographers take many more photos, in many styles, than the ones that make the pages of large circulation dailies and periodicals. Often, in the absence of photo-editors working on many Lithuanian publications, they are shooting to order for the main stories. Looking at a broader body of work, however, it's hard to identify how press photography differs from art photography. Good press photos not only document facts, but tell a story in many aspects, revealing what happened before and after the shot, conveying the emotions in the air. The easiest way to differentiate press and art photography might be the fact, that press photographers work with 'found' situations – they are not studio settings. This exhibition presents documentary images, the best photos taken by press photographers, which have been shot for their own ends, rather than for targeted publication.
Vilnius' Metro
Curator: Valdas Ozarinskas
Artists: Kostas Bogdanas, Audrius Bučas, Marina Bučienė, Darius Čiūta, Linas Jablonskis, Donatas Jankauskas, Gintaras Kuginys, Dainius Liškevičius, Valdas Ozarinskas, Ernestas Parulskis, Saulius Pilinkus, Tomas Rasiulis, Rolandas Rastauskas, Galmantas Sasnauskas, Modas Šipyla
'Vilnius' Metro' vision has been inspired by images that cover the walls of subway stations of big cities. The curator has invited the amateur photographers to participate in the exhibition – to use a few square metres of the exhibition area as the advertising space and create images that 'advertise' their personalities. These auto-analytical series consists not only of self-portraits, but also of photos of objects, which are important to their authors, or images of their favourite television programs or Internet sites.
Expanding the image into conversation
Young artists in the space of post-photographic events
Curators: Julija Fomina ir Valentinas Klimašauskas
Architect: Viktorija Makauskaitė
Artists: Akvilė Anglickaitė, Goda Budvytytė, Liudvikas Buklys, Arturas Bumšteinas, Tomas Čiučelis, Gintaras Didžiapetris, Karolis Klimka, Juozas Laivys, Anton Lukoszevieze, Tomas Martišauskis, Joseph Miceli, Darius Mikšys, Elena Narbutaitė, Robertas Narkus, Lina Ozerkina, PB8 (www.pb8.lt), Matthew Post, Rokas Pralgauskas, Andrej Vasilenko, Milda Zabarauskaitė
Expanding the image into conversation is an exhibition of young artists and a space for special events, which invites the audience to consider photography's place in today's image culture. The participants of the project reflect the phenomenon of inflation of images by raising questions (e.g. what processes of contemporary art might be defined as photographic?), and by organising special events. In the space of these events viewers can find not only sculptures, posters or postcards created or found by artists, but also participate in talks, discussions and film screenings.
Street photography
Curator: Mirjam Wirz
Artists: Julius Balčikonis, Augustinas Beinaravičius, Neringa Černiauskaitė, Jurij Dobriakov, Evaldas Jansas, Valentinas Klimašauskas, Joe Miceli, Andrew Miksys, Robertas Narkus, Lina Ozerkina, Irena Pranskevičiūtė, Airyka Rockefeller, Marius Stavaris, Marielle Vitureau, Mirjam Wirz
The project 'Street Photography' consists of three parts: the 3rd issue of the Flash Institut newspaper, a 'Flash Bar' and Street Performances.
Photographic practices are defined by keywords such as: producing images/mise-en-scènes; getting into situations; investigations; collections; searching; locations; creating spaces with potential; chance encounters; stories; experiences; latency; recording; sensation; street wise; functioning as a stranger; roaming the city; see what you get, and so forth. The project has been inspired by traditions of street photography and Film Noir, detective-like methods, and private eye pursuits.
The Flash Institut is a centre for cultural production, research, development and exchange and considers social encounters and interaction a main practice and material element. The Institut is also a communication structure set up to research and connect ongoing cultural processes.
'The Flash Bar' is an event which constantly changes its place in the city, which never happens at the same place two times, and which invites the public to use the everyday spaces in extraordinary ways.
Dainius Liškevičius. X-ray
Dainius Liškevičius' solo project 'X-Ray' has been evolving over several years in his apartment that doubles as his studio. Serially shooting in pitch darkness, using a flash, Liškevičius has developed a number of interior images that register a period of time, events and experiences like an unconscious diary.
The project evolves out of the artist's personal experiences – emotional states that appear between dreaming and awakening, which he wanted to document and demystify with the help photography. Beside these private experiences, the project can be read against influences such as the film Ghost Hunters, fragments of theories of fear by Freud and Jung, the TV program Myth Busters or the attempts by 19th century photographers to document ghosts using camera obscura. Neither those, nor the artist's photos show evidence of any 'supernatural' forces. And all the emotional experiences remain unseen.
Nevertheless, what the artist calls 'flash therapy' appears to be very effective.
Artūras Raila: Power Of The Earth. Mythological Vilnius
Artūras Raila presents the final chapter of his continuous project 'The Power of Earth (2005–2007)'. In 2005, while collaborating with experts in geo-energetic power, he created the piece entitled The flows of geo-energetic power of earth in the building of the Contemporary Art Centre for The IX Baltic Triennial of International Art. The information collected onsite by the dowsers was used as source material for geo-energetic maps. These were executed and used as part of installation in exhibitions in Germany and England at; Berlin Kunstlerhaus Bethanien, Frankfurter Kunstverein and Allenheads ACA.
The exhibition 'The Power of Earth' is a collaboration between the geo-energetic power experts and a community of Balts. The working group of Lithuanian geo-energetic power experts has marked the flows of geo-energetic power of the earth on a map of Vilnius. Large-scale photographs are also exhibited. The displays are augmented by the cycle of concerts, lectures and other events.
Illustration: Vitas Luckus, From the series Mimes, 1970
This photograph became scandalous after it was published on the cover of the magazine Nemunas No.11 in 1970 – a special issue intended to glorify the Great October Revolution. The Soviet government was outraged by the sexuality of the photographed actors and considered pantomime 'an art of suspicious political views'. Soon after, the authorities began to impose creative restrictions on the magazine.