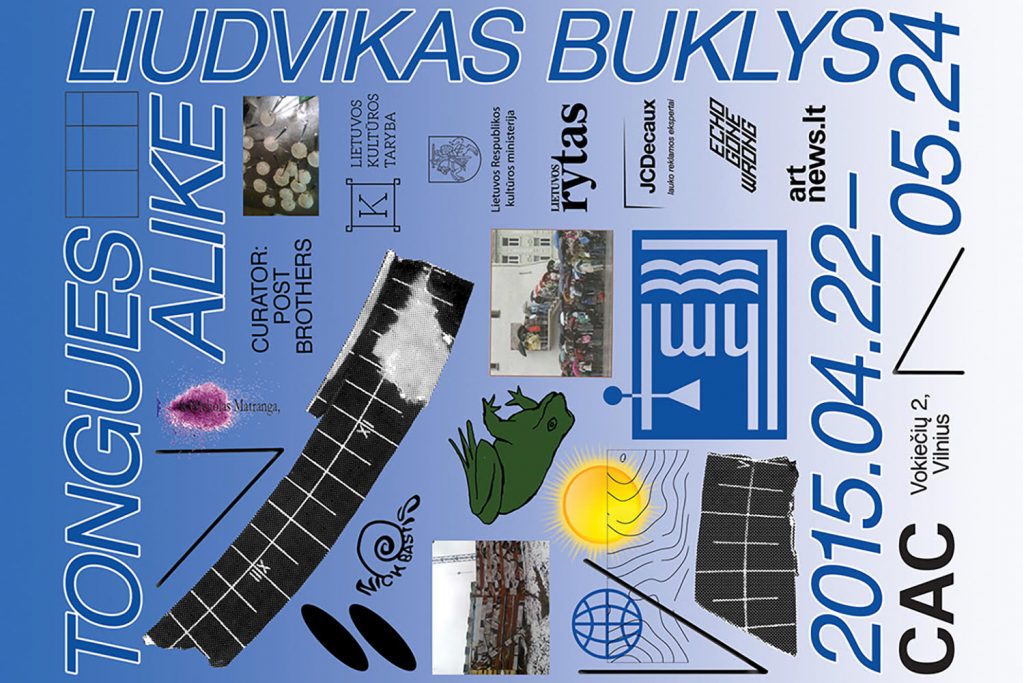 The toads are already secreting slime. A climate change is coming. Keep your weather eye open. While forecasts at this point are hazy at best, one can at least be sure that at 6 pm on April 22nd, 2015 at the Contemporary Art Centre in Vilnius, Lithuania, Liudvikas Buklys will present an exhibition entitled "Tongues Alike".
Preliminary prognostications by the Lithuanian Hydrometeorological Service foretell that there is at least a 50 percent chance the weather will be same as the day before, about a 50 percent chance that it won't be. Like the practice of meteorology, the exhibition is an exercise in atmosphere, emphasizing the hidden things that motivate, and are motivated by, perceptible phenomena. Models produce forecasts, but conditions diffuse and doohickeys and devices do what they do and don't. Sometimes when one invokes a structure, it dictates how things may develop. But in spring, one can never be sure. Whether the weather is cold, whether the weather is hot, we have to put up with the weather, whether we like it or not. They say that to be good in business one needs to know where the wind is blowing and make sure to take stock. Assembled with lick and a promise, one can at least expect a few functional and dysfunctional doodads: a divider bell, a double edition, a flock of prototypes for secondary schools, the inventory of a street vendor, a greeter with a forked tongue, slimy snails slathering surfaces silently (a sticky situation), a mediated manifestation of marijuana mensuration, some appropriate sculptural configurations, a trailer following a bouncing ball, Nicolas Matranga publicly practicing a triangle, a curtain with a still, and a machine to elaborate wheat flour tortilla that catalyzes a curious choreography on a conveyer belt and complements commercial cooking and cloaking. Together, they are tongues alike. They are speaking of, but are also tongue-tied.
Liudvikas Buklys (b. 1984, Vilnius) lives and works in Vilnius. He graduated from the Vilnius Academy of Arts, Sculpture Department, in 2009, and from The Higher Institute of Fine Arts (HISK), Gent in 2012. Buklys has presented solo exhibitions at Cortex Athletico gallery in Paris (2014), Objectif Exhibitions in Antwerp (2014), Raum für Kunst in Luzern (2013), Enrico Fornello gallery in Milan, and Tulips & Roses gallery in Brussels (both 2010). He recently presented his work in the group exhibitions: "Prototypes" at the CAC Vilnius, "The Sky Is Blue In Some Other Way" at Elba Benitez gallery in Madrid, "The Excluded Third, Included" at Galerie Emanuel Layr in Vienna, "Frank Chu" at the Gardens in Vilnius (all 2014); "Tussie Mussie" at 1857 in Oslo, "Audit" at CAC Vilnius, The 9th Mercosul Biennial in Porto Alegre, "oO" Lithuanian Pavillion at the 55th Venice Biennial, "Veerle" at Sandretto Re Rebaudengo in Turin, and "Underground" at kim?, Riga (all 2013).