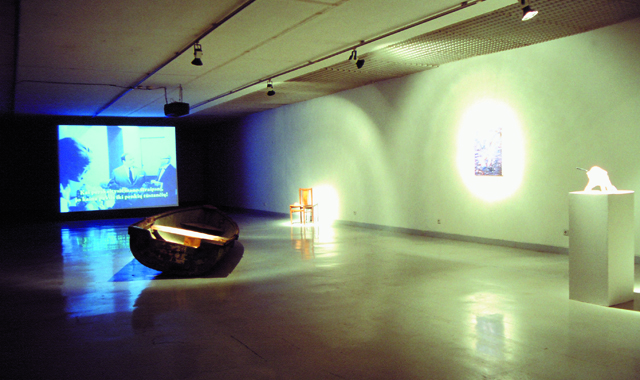 'The Artist Trilogy' is a solo exhibition of the work of the young American artist Matt Marello. Employing homespun blue-screen video technology Matt Marello 'inserts' himself into already existing films.
'The Artist Trilogy. Three Tales of Gothic Horror' consists of three film stories:
Bucket of Blood
When sculptor Walter Paisley's more-than-life-like creations are declared masterpieces, fame and fortune follow, until the terrible truth behind his work is revealed!
From the film A Bucket of Blood
USA 1959/2000 B&W 5 minutes.
The Hand
A heated exchange of words between art critic Mr. Marsh (Christopher Lee) and painter Matt Marello (Matt Marello) leads to a terrible crime with supernatural consequences!
From the film Dr. Terror's House of Horrors
England 1965/ USA 2000 Color 5 minutes.
Paint me Dead
A gentlemanly Sunday painter (Matt Marello) paints the ultimate self-portrait on a beautifully desolate stretch of English coastline, a painting that will have your hair stand on end!
From the film Hammer House of Horrors
England 1978/USA 2000 Color 3 minutes.