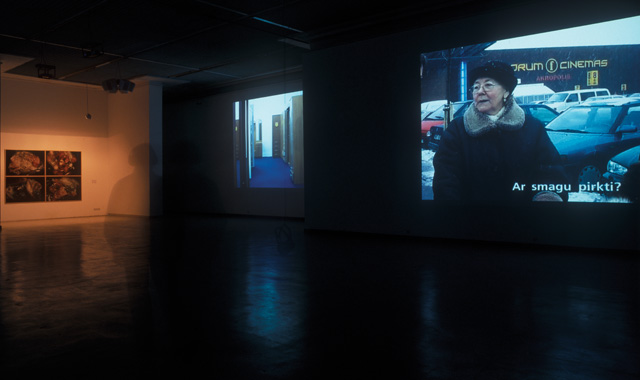 The newest project by Egle Rakauskaite was filmed in several largest supermarkets. The volunteering participants of the project were shortly filmed by a camera hidden inside the store. By this project, Egle Rakauskaite questions consumerism and advertisement as tools for communication and persuasion by creating specific situations in commercial spaces.
'I tried to be relevant and speak to people by using the words which seem understandable now, and on the topics which are familiar to them. I hope I didn't violate the valid standards of ethics and decency.'
(Egle Rakauskaite)
At the exhibition:
You will learn how to catch the steps with the time.
You will hear how to prepare your flat for the winter, how to clean ice from the windows of your car, how to remove a bad smell from your fridge, how to fight youth pimples and how to avoid the signs of aging.
You will see the means of keeping privacy at a supermarket, the things people can do in a furniture store Audejas, where the Soviet style spirit is still alive in the interior and the stock handling system.
This year, the Contemporary Art Centre presents a series of personal exhibitions called 'EMISIJA 2004' (EMISSION). This series of exhibitions introduce the most important Lithuanian artists, who have constituted the new language of contemporary Lithuanian art in the previous decade, have received the most attention from the critics, have participated in the most important contemporary art exhibitions in Lithuania. They have represented Lithuania abroad for numerous times and, along with the Contemporary Art Centre, have created a basis for the development of the new generations of artists.
In 2004 the Contemporary Art Centre presents seven artists, but the series of personal exhibitions is planned to extend throughout the succeeding year. 'EMISIJA 2004' will be accompanied by a catalogue that will provide a comprehensive introduction to the work of each of the participating artists.