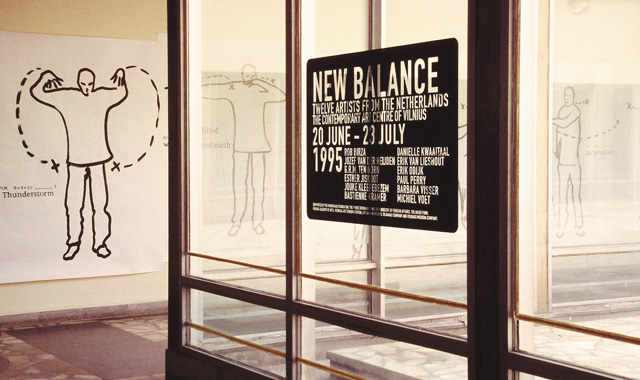 Artists: Rob Birza, Jozef van der Heijden, G.R.M. ten Horn, Esther Jiskoot, Jouke Kleerebezem, Bastienne Kramer, Danielle Kwaaitaal, Erik van Lieshout, Erik Odijk, Paul Perry, Barbara Visser and Michiel Voet
Curators: Kestutis Kuizinas and G.R.M. ten Horn
At the time, this was one of the largest foreign art exhibitions to be held in Vilnius. It occupied the whole space of the second floor of the Contemporary Art Centre, the open courtyard and the film hall. For Lithuanian viewers, this was the first encounter with art from the Netherlands, which despite being a small country has an important place in contemporary western artistic culture.
'New Balance' presented the works of twelve middle and young generation artists, who were selected specifically for this exhibition from all over the Netherlands.
One of the main features of the concept of 'New Balance' was its 'openness', i.e. its relationship with the local art context. In this respect 'New Balance' was not a usual visiting exhibition. About a half of the participants were asked to make new work inspired by their stay in Vilnius with the assistance of students from the Vilnius Academy of Arts. In preparing for the exhibition, the artists spent approximately three weeks here.
All of this preparation time was documented by the Dutch artists (each separately) on portable video cameras. Following the opening of the exhibition in Vilnius, 24 hours of recorded video material was sent to Dutch television where, after editing it, an hour-long film was made.