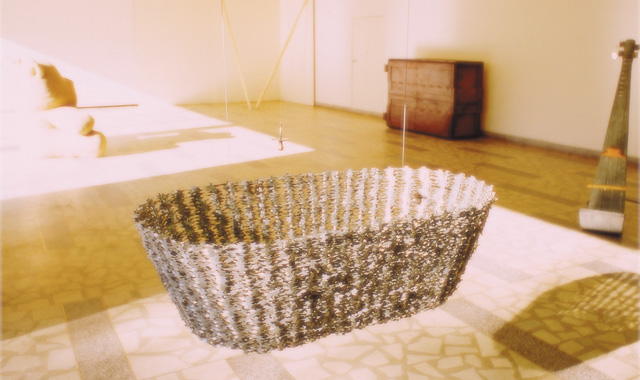 Artists: Siri Austeen, Darius Bastys,
Saulius Kuizinas, Deimantas Narkevicius, Audrius Novickas, Arturas Raila
Curator: Deimantas Narkevicius
The participants of this exhibition called into question the distinction of artist-creator. Witnessing the changes in the relationship between interior and exterior, they did not ask what art was but what could be included in the sphere of creative interpretation. These artists foresaw the autonomy and mobile interaction of an object, environment and themselves as parts of the whole which were not based on estimation criteria but on a possibility of choice.
The work by Siri Austeen belongs to the series of objects-instruments. It is a seducing body, pulled in the space limited by the triangle of function, construction and imagination.
Beast-Toy by Darius Bastys is a participant of contemporary mythology, the guardian of home cosiness. The bear is the local character of heroic expression for export.
In Different Scales Saulius Kuizinas focused on 'the feeling of cultural vitality that allows to perceive quietly the natural tension of conceptual priorities vis-a-vis aesthetic visions.'
Never Back by Deimantas Narkevicius is a return to the primary own space. 'Now the object-memory is observed and analysed, but the primary own space and the field of first impressions are completely filled with organic sediment.'
The work by Audrius Novickas, a topless pyramid, is hung in space. The work acts as an intermediary between the exhibition hall and illusional space.
The work by Artūras Raila is 'a reference to the condition of consciousness when all efforts are aimed at seeking benefit for oneself. In this way the reasons for the emergence of distorted provisions are pinpointed.'
'A cradle that guarantees pragmatic infantility.'