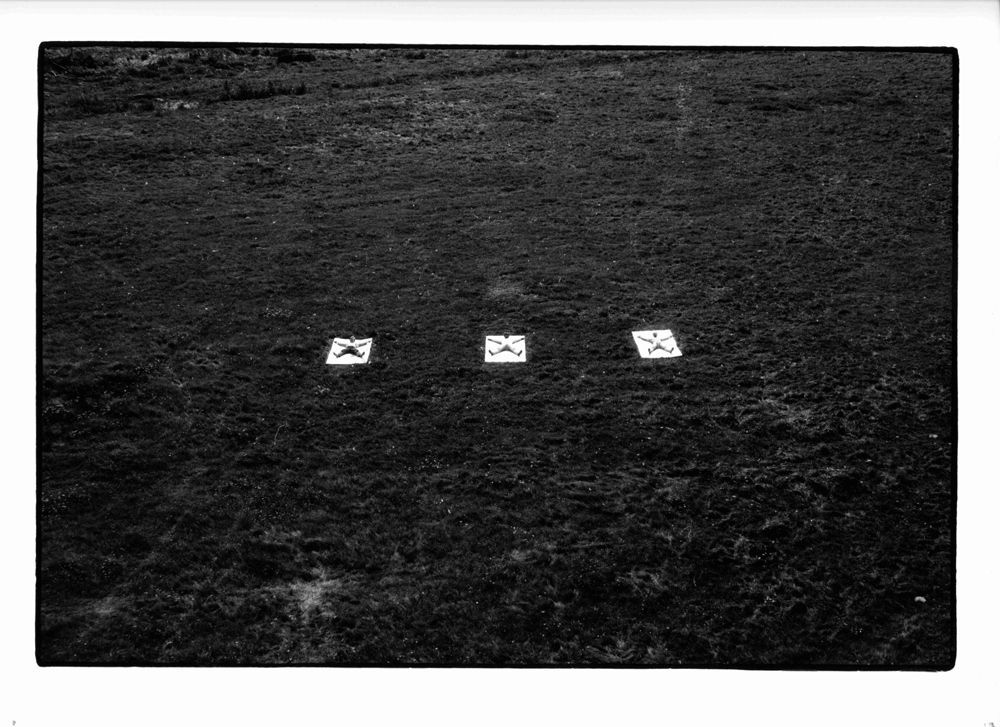 Every show of the group Post Ars is an event. Its members – Aleksas Andriuškevičius, Robertas Antinis, Česlovas Lukenskas and Gintaras Zinkevičius, perform their separate parts in the joint exhibition or action. A musical form connects separate elements: body art, performance, installation or happening, into a whole, and the score is the place of action and idea. Hence the title of the exhibition, which also points to the group's famous work, The Score, realised during the European biennial Niederlausitz II (Germany) in 1993. Then the elements of landscape that happened to be on the staves drawn by sleepers became their notes: trees, birds, stones, grass and even wind. In this exhibition, photography is "the score" for which every artist performs his part by using polygraphy, everyday things, bodies, the elements and words, which are also pasted on the floor under the audience's feet as "mature thoughts".
For decades, photography has been treated as a medium for documenting performative actions, but now it is becoming an interesting work of art in its own right. Among blurred images taken by accidental observers, works by Harry Shunk, János Kender, Minoru Hirata, Babette Mangolte, and in Lithuania – Gintaras Zinkevičius, stand out for conveying the course and the idea of action very legibly. After the restoration of Lithuanian independence, Post Ars decided to form a collection presenting their activities in 1989–1991. G. Zinkevičius photographed most performances and actions for that purpose, and a third of the collection was printed from carefully selected negatives taken on various occasions by Giedrius Liagas, Arūnas Kulikauskas, Laimis Brunza and Gintautas Stulgaitis. The collection covers a wide range of concepts, including the play with the perception of space and time, bodily metamorphoses, the rhythm of everyday things and printed material as well as cosmogonic rituals. The photographer participates as the director because the totality of action and its design in space is visible only for the gaze floating high above the ground. This collection has captured the atmosphere of the new beginning and the young artists' enthusiasm to create yet unseen forms and force through political barriers.
During the exhibition, Reception, a film by Gintaras Zinkevičius and Audrius Kemežys, will be screened in the CAC Reading Room. It presents the action by Džiugas Katinas and Darius Gerasimavičius with Post Ars that took place in this very room in 1996 to mark the opening of two exhibitions: "FLUXUS in Germany 1962–1994" (curator René Block) and "Jurgis Maciunas. FLUXUS Art as a Joke" (from G. and L. Silverman collection, curator Jon Hendricks).
Image: Action by Česlovas Lukenskas: Travelling Quadrangles, together with Post Ars, 1990. Photographer: Gintaras Zinkevičius.