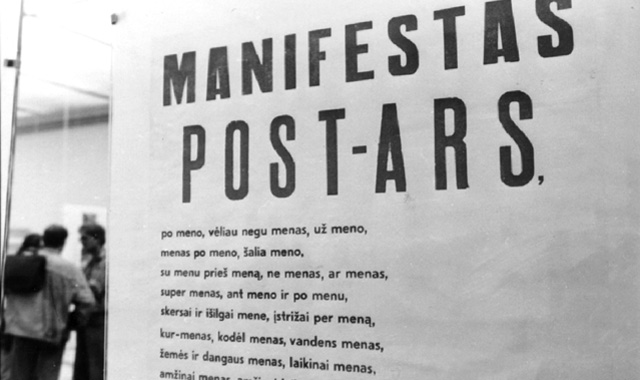 Opening: Friday 18 December, 18.00
The exhibition POST ARS_20_CONTEXTS is a retrospective of the POST ARS group's oeuvre spanning two decades and presented on five screens and a digital catalogue. Though the group's exhibitions, performances and actions were predominantly recorded on amateur camera this material represents a significant body of documentation of POST ARS high years of activity and an important passage within contemporary Lithuanian art history. The exhibition is relevant, and fascinating, as both an artistic event and as an archive recording an evolution of Lithuanian culture.
Now considered canonical, POST ARS' first exhibition 'Installations by Kaunas Artists' staged at the at Lithuanian Artists Association Kaunas gallery in 1990 provoked a series of unprecedented reactions that included protest demonstrations organised by some of the other artists from Kaunas, inauspicious reviews, and the closure of the exhibition three days its opening. The art critic Alfonsas Andriuškevičius later wrote that, at that moment, Kaunas city became the temporary capital of a Lithuanian avant-garde, as 'Installations by Kaunas Artists' was the country's most avant-garde exhibition, and POST ARS its leading-edge artists.
POST ARS, initially founded in 1989, was one independent Lithuania's first collaborative enterprises – its core members included Aleksas Andriuškevičius, Robertas Antinis, Česlovas Lukenskas, and Gintaras Zinkevičius. The members of POST ARS were pioneering practitioners and advocates of the 'new art' forms (the aforementioned exhibition featured the first official use of the term 'installation' in Lithuanian art circles). Daring to escape from enshrined theoretical categories the group developed a wide field of practices, including; installations, actions, performances, happenings, land art projects. Their work is characterised by its elusiveness, provocativeness, its improbability, its surprising nature, its temporality, its use of entropic materials (earth, water, fire, glass, litter) and, often, the use of the artists' own bodies as expressive medium.
The exhibition also includes a digital catalogue of the group's work. This format is not yet popular in Lithuania, but its capacity to hold vast amounts of digital information and filmed footage is of great value and utility. The catalogue features biographies of the members of the group, their portfolios, interviews, other artists' comments as well as many photographs and video fragments.
–Daiva Citvarienė, curator of the exhibition