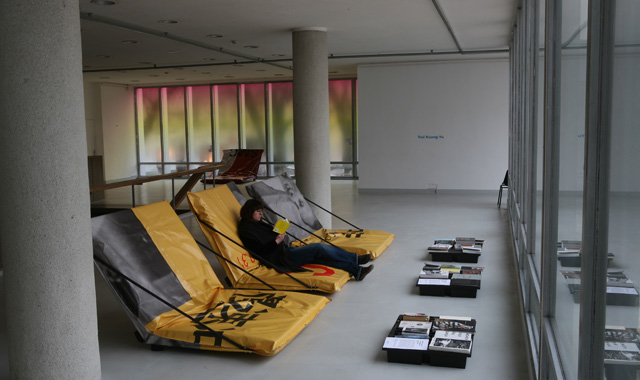 Books and libraries by:
Pierre Bismuth, Roderick Buchanan, Arturas Bumšteinas, Flash Institute's library 'Books Left behind', Bethan Hews, Aglaia Konrad, Jeroen Kooijmans, Rem Koolhaas, Juozas Laivys, Lucas Lenglet, Lucy Lippard, Marshal McLuhan, Jonathan Monk, Melvin Moti, Mindaugas Navakas, Yoko Ono, Olivia Plender, Bik Van der Pol, Vilnius is burning community and others.
Curator: Valentinas Klimašauskas
CAC, a participant of Vilnius international book fair, invites you to an exhibition of artist's books, which explores how contemporary Lithuanian and international artists understand and use artist's book format.
Unlike usual exhibition catalogues which serve as a documentation of exhibitions, the artist's book is described as a space for an exhibition itself or its continuation. The first conscious act of compressing the space of exhibition into a format of a book was conceived in Seth Siegelaub's gallery (NY) in 1968. Here, artist Douglas Huebler published the book of his exhibition which existed only in the form of a catalogue, as art critic Lucy Lippard mentions in her famous book Six Years.The Dematerialization of the Art Object from 1966 to 1972. Since then not only was the exhibition space transferred into a book format, but also the media of a book was popularised itself as one more 'new' media to broadcast conceptual thinking.