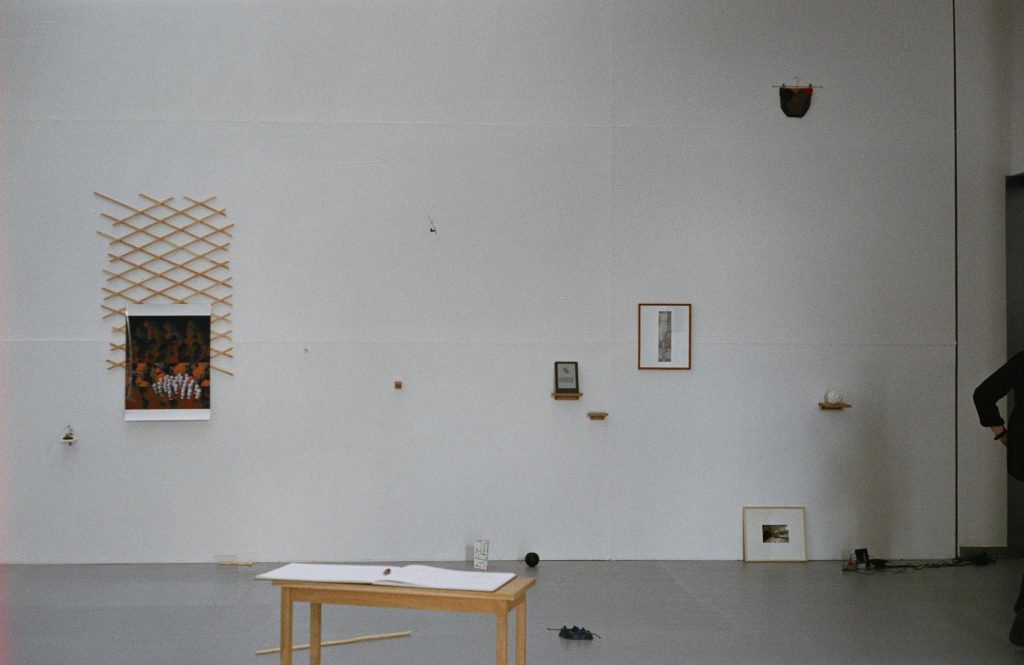 Probably this is how the exhibition would look like if it was created not from a stand of view of an author, curator or a viewer, but from the one of an artwork.
Officially, the project Sparrows could be called an exhibition. As well as it can function as a catalogue of the artworks that wish to participate in the other exhibitions and are unhappy about their creators, curators and the concept of their exhibition. It can also be called a collective or an agency, working as a medium amongst artworks, artists and exhibitions. It can also be called a workers union or an agency of the Things Parliament, as described by sociologist Bruno Latour. At first, this project sought to connect the disobedient, rebellious, runaway, unfinished or self-creating artworks. They become the subject–likes on their way to the new identity, projects and exhibitions, whose openness to the new situations stops us from using such narrow ended definitions as 'artwork', 'authorship' or 'concept' (which they should embody while squeezing into it), 'discourse' (where they should be 'explained') and so on. Very soon it became clear that all the artworks probably live their own lives that hardly fit in the contours of their creator's biography or the order of concepts and discourse.
After what was already told it is unforgivable to talk about the context. Still, let's mention the precedents at least. A character Pinocchio created by Italian Carlo Collodi expressed a strong wish for his master to be careful with him as apiece of wood from the very start and, once he got legs made for him, he kicked his master and ran off to live his authentic life. Pinocchio's nose enjoys disobeying even more. The paradox of Pinocchio concludes a contradictory situation where his nose grows not only when he is lying, but even when he makes a promise to lie (which means that Pinocchio is telling true). One of Nicolai Gogol characters loses his nose, it becomes a person and starts living its independent life. Raimundas Malašauskas in his text 'Can Artworks Curate As Well?' mentioned Francesco Manacorda who once said that he would like to see an exhibition curated by two parrots, six chocolate cakes, a bowl of seawater, two cans of warm Guinness, a pot of geraniums and Maria Lind. According to Malašauskas it would be his favourite documenta. Each episode from the 'Twin Peaks' series directed by David Lynch starts with a trailer. In it a woman with a wooden log in her hands makes an abstract monologue about what will happen in the next episode. But this is not Log Lady speaking. In this series she is only a translator and an intermediary between the characters and their secret lives and which a wooden plank is talking about, if this function and these terms can be used to describe the piece of wood at all.
Coming back to the context of the exhibition and Sparrows we wonder whether every participating work in the exhibition can talk about itself and the exhibition as fluently as that log did? And is there a chance that a spectator, Log Lady, will appear and talk for those works? Maybe it will be you or two parrots, six chocolate cakes, a bowl of seawater, two cans of warm Guinness, a pot of geraniums and Maria Lind?
Artworks for this exhibition were proposed by:
Liudvikas Buklys ir Gintaras Didžiapetris, Alex Cecchetti, Agata Erlacher, Antanas Gerlikas, Arūnas Gudaitis, Martijn In't Veld, Laura Kaminskaitė, Tim Kliukoit, Ignas Krunglevičius, Mikko Kuorinki, Diana Kuzmickaitė, Karl Larsson, Milda Laukinaitė ir Saulius Leonavičius, Nicholas Matranga, Darius Mikšys, Brandon Wall Olsen, Paul Paper, Jurgis Paškevičius, Matthew Post, Triin Tamm, Rimantas Tumasonis
Exhibition architect:
Dalia Dūdėnaitė
Curator:
Valentinas Klimašauskas
Image:
Dalia Dūdėnaitė