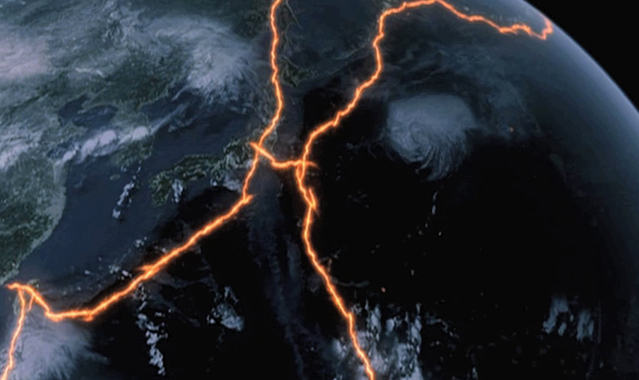 Exhibition at the Contemporary Art Centre and the Energy and Technology Museum in Vilnius
There are two nuclear power plants in the vicinity of Vilnius: Ignalina (decommissioned) and Astravets (not yet operational). A third, and infamous other, is Chernobyl, eerily present following the effects of its catastrophic failure, and more recently via the popular television series that focuses on the disastrous consequences of lies and neglect. The exhibition "Splitting the Atom" offers insight into the different cultural contexts of these plants and their role in the global infrastructure of the nuclear cycle – from natural resource extraction to waste.
Nuclear technology was integral to the aesthetics of the Cold War; the scale and terror of the atomic bomb shaped a hypnotic image of a nuclear sublime where modern science and technology were perceived as omnipotent. By the beginning of the new millennium, evidence of everyday experience of radioactive contamination through nuclear testing, uranium mining, and colonial exploitation combined with the dangers of radioactive waste was better understood and radically influenced how artists consider nuclear aesthetics.
Today nuclear culture explores questions of deep time contamination, colonial nuclearity and radioactive waste management as well as the need to disarm. Practical concerns caused by aging technologies and radioactive waste become graver and increasingly urgent every day. While this work takes place, nuclear technologies continue to penetrate different aspects of our everyday life; and we know that radioactive fallout particles will remain across the surface of our planet forever.
Why is it so difficult to build trust in nuclear? What are the costs of energy created through nuclear fuels? What defines nuclear heritage, and what happens when radioactive waste becomes part of our culture? How are nuclear technologies part of colonial histories? These and other issues are explored in the exhibition by more than thirty artists from different countries working in the field of nuclear heritage.
"Splitting the Atom" was initiated by Eglė Rindzevičiūtė as a parallel project to the UK Arts and Humanities Research Council networking project "Nuclear Cultural Heritage: From Knowledge to Practice". The network's partner project, "Atomic Heritage Goes Critical", led by Anna Storm, will organise an international scientific conference on histories and cultures of atomic power in Vilnius and Ignalina in 2021.
The essay "Splitting the Atom, Creating Trust" by Paul Josephson (Colby College), Tatiana Kasperski (Pompeu Fabra University), Eglė Rindzevičiūtė (Kingston University London), and Andrei Stsiapanau (Vytautas Magnus University) was commissioned as part of the project and published in collaboration with Echogonewrong.com and Artnews.lt.
Image credit: Susan Schuppli, Trace Evidence (film still), 2016