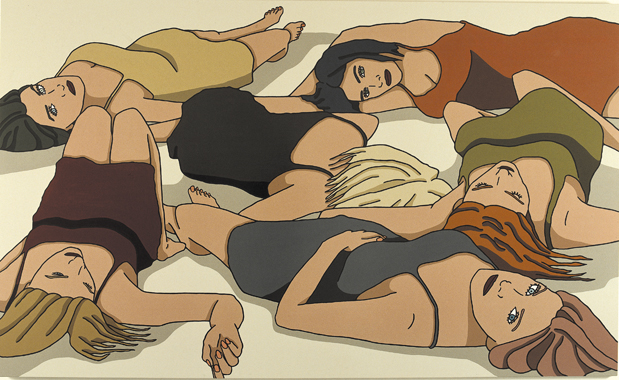 Artists: Jim Lambie, Jun Hasegawa, Kate Bright, Graham Little, Peter Davies, Gary Webb, Eva Rothschild, Clare Woods, David Thorpe, Simon Periton, Dj Simpson, Matt Franks
Curator: Stephen Hepworth
Tailsliding is a dangerous skateboarding move carrying a rush of adrenaline and a whiff of illegality. The word 'tailsliding' is absolutely specific to those who know what it means. It implies the respect that skateboarders have for each other, the way that they watch and wait as others perform, the way they work with and within a given landscape, and how this and other street cultures spread across national boundaries.
The exhibition of young British sculptors and painters provokes new discussion on art's relation to the tradition, craft and skills in the beginning of the 21st century. Contemporary materials combined with love to making things with the hand opposed to 'art ordered by the telephone'. It is the slow and colorful exhibition letting itself a luxury to move away from critical discourse. Worrying or protest is being displaced by the pleasure of making things and images – the pleasure found in the un-social, lonely and time-consuming act of creation locked in studios. Making things with the hand is just a simple expression of such a need rather than a loyalty to the tradition or an ironic commentary. The artists refuse to exploit fatal conclusions by visual culture theoreticians about the power and compulsion of images. They do not worry about codes and references. They give themselves to the hedonism of the new age, which becomes easily infectious.
'What permeates the work in this exhibition, is a move away from the re-telling of the personal through text and video, an absence of anger or agendas that explore and question the social. …They [artists] demonstrate an optimism for the new century, partly fuelled by the current economic upswing and increased possibilities for survival as an artist in the expanding market. For some it is the desire to make work that exists at the edges of our perceptual reach, taunting us with the possibility of recognition. Their work speaks a soundtrack of hip-hop, garage and house in a dyslexic mix, displaced fragments hung on the wall. Advertising, film, design and fashion spiral in a mix which avoids conclusions, but leans towards the sampling of style and content. A romantic spectacle in which youthful adventure can be enacted away from the gloom of reality. Wrapped in a desire to claim again the possibility of a romantic spirit, to reclaim beauty as sensual and tenable, without overspilling into kitsch.'
Stephen Hepworth