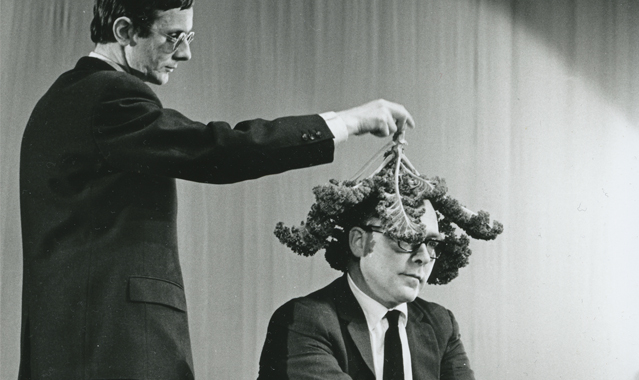 Exhibitions | Conferences | Actions | Publications
"The lunatics are on the loose" – a spectator scratched this comment into the poster of the first festival called 'Fluxus' held in Wiesbaden in September 1962. The 50th anniversary of Fluxus provides an opportunity to present a new perspective on its radical art actions. A multimedia exhibition installation documents the Fluxus events of the 1960s and 70s and offers active encounters with art actions, artists and eyewitnesses.
Since 1962 a series of European cities witnessed Fluxus events. This loose formation of artists became known for shaving their heads on the stage, "working with butter and eggs for a while," dismantling a piano and blowing up lettuce. The audience and media were outraged: "Music with eggs," "They hang up cabbage and say it's art," "Newest Music in Madhouse-Style" – Eric Andersen, George Brecht, Philip Corner, Dick Higgins, Alison Knowles, George Maciunas, Nam June Paik, Ben Patterson, Mieko Shiomi, Ben Vautier, Emmett Williams and many others set their goal to break down the boundaries of art and overcome the bourgeois notion of art.
While the artists who remain active still work today on furthering and forming Fluxus ideas and actions, an ever growing number of art historians/curators are researching and presenting the history of Fluxus in all its variety. Nevertheless, the knowledge on the European Fluxus festivals has still been rudimentary. Therefore, it was high time to bring together research results in an international project, make previously undiscovered material accessible and most of all, draw attention to the artists' and eyewitnesses' perspectives.
"The lunatics are on the loose…": European Fluxus Festivals 1962–1977 features
– a reconstruction of a selection of European Fluxus festivals by means of an interactive multimedia exhibition installation
– do-it-yourself Fluxus installations, that offer visitors an opportunity to perform Fluxus pieces themselves within the exhibition space
– performances and encounters between artists and audiences
– symposia and discussions
– a publication including an extensive documentation of historical events and artistic contribution
The exhibition is meant as a first step towards processing the historic Fluxus events in Europe. During the exhibition the search for eyewitnesses will continue and the projects remains open for further material.
The exhibitions is accompanied by an extensive English publication (592 pages, numerous illustrations, extensive essays and detailed documentation on 32 European Fluxus festivals, as well as artistic editions).

Artists:
Eric Andersen (DK), Philip Corner (US/IT), Geoffrey Hendricks (US), Bengt af Klintberg (SE), Milan Knížák (CZ), Alison Knowles (US), Jarosław Kozłowski (PL), Vytautas Landsbergis (LT), Larry Miller (US), Ann Noël (GB/DE), Ben Patterson (US/DE), Willem de Ridder (NL), Tamás St.Turba (HU/CH), Ben Vautier (CH/FR) and many others

Curators:
Petra Stegmann (DE) with Peter van der Meijden (NL/DK), Henar Rivière Ríos (ES/DE), Heike Roms (DE/GB), Caroline Ugelstad (NO)
Co-operation:
University of Applied Sciences Potsdam (Design)
Design:
Christina Serowski (exhibition), Judith Hecktor and Jula Lakritz (iPad application), Sabine Hoffmann (catalogue)

Exhibition venues:
Berlin – Akademie der Künste, Hanseatenweg, 13 July – 12 August 2012
Poznań – Uniwersytet Artystyczny w Poznaniu (University of Arts in Poznań), 2 – 12 October 2012
Krakau – MOCAK Muzeum Sztuki Współczesnej w Krakowie (Museum of Contemporary Art in Kraków), 19 October 2012 – 27 January 2013
Kopenhagen – Nikolaj Kunsthal, 3 November – 25 November 2012
Stuttgart – Staatsgalerie Stuttgart, 1 December 2012 – 28 April 2013
Paris – Goethe-Institut, 6 December 2012 – 10 January 2013
Vilnius – ŠMC Šiuolaikinio meno centras (CAC Contemporary Art Centre), Vilnius 15 December 2012 – 20 January 2013
Funding/support:
Hauptstadtkulturfonds Berlin
Danish Arts Council Committee for Visual Arts
Spanish Embassy in Berlin
Goethe Institute
APS 2.0

Image:
Willem de Ridder covering Emmett Williams's head with a cabbage in a performance of Robert Filliou's 13 Façons d'employer le crâne d'Emmett Williams, at Kleine Komedie, Amsterdam, 18 December 1963; photo: Dorine van der Klei