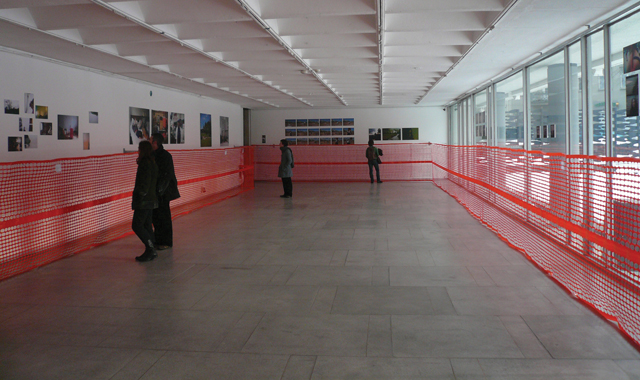 Artists:
Akvilė Anglickaitė,
Arturas Bumšteinas,
Dovilė Budreikaitė ir Jonas Dagys,
Joana Deltuvaitė,
Ugnius Gelguda,
Rasa Juškevičiūtė,
Robertas Narkus,
Artūras Olšauskas,
Paulius Paper,
Rokas Pralgauskas,
Kęstutis Šapoka,
Tadas Šarūnas,
Ieva Sireikytė,
and Mirjam Wirz
Curator: Renata Dubinskaitė
The Contemporary Art Centre is pleased to launch a new cycle of exhibitions and projects by young Lithuanian artists – titled 'Yellow Line'.
In days gone by the Vilnius Old Town was demarcated by a yellow line over which heavy traffic couldn't pass without a proper permit or a corresponding yellow line painted on the vehicle's body work. Internationally, a yellow line painted at the curb or a double-yellow line in the centre of the road signifies no stopping or no overtaking, respectively. Though observing these lines can lead the traveler to new routes and new adventures, in fact yellow lines are used to mark all sorts of no-go-zones or boundaries. Yellow's not all bad though. It marks the bulls-eye in a target. During springtime it radiates in nature – generally associated with youthfulness and energy. And in Lithuania new product lines and sale items are marked with yellow tickets. In other words yellow is a colour, used in many aspects of visual design, guaranteed to attract our attention.
In 2007, Lithuanian artists at the start of their careers or who are still studying will be invited to step over the 'Yellow Line' and invest it with new, and potentially risky, meanings – and mark their own line.