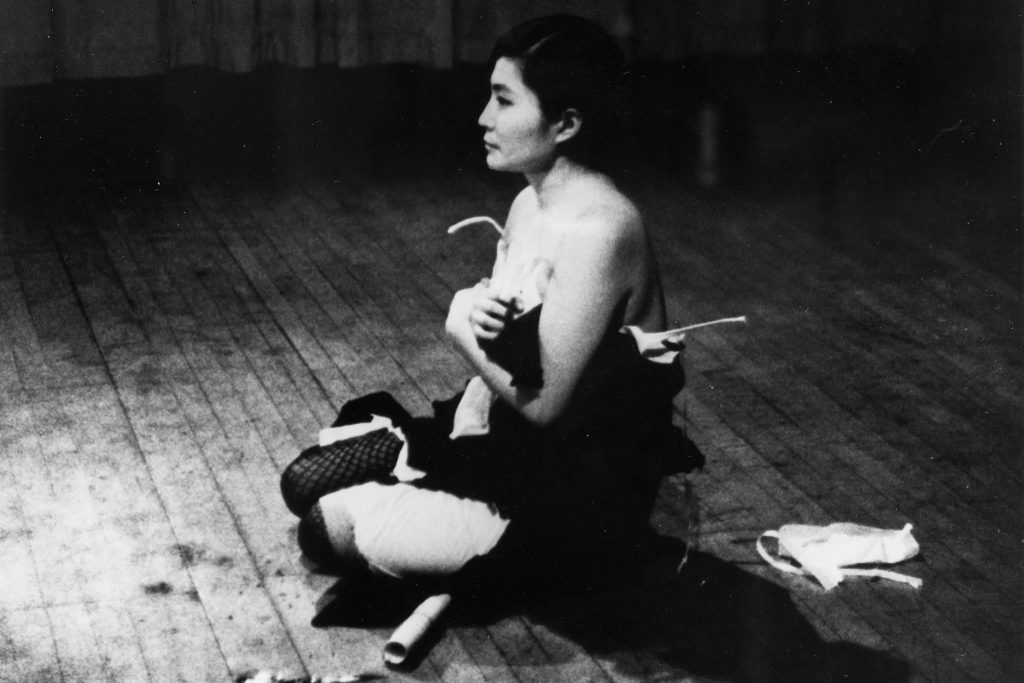 Exhibition at the Kaunas Picture Gallery (K. Donelaičio st. 16, Kaunas)
This exhibition presents an overview of the diverse work of world-renowned artist Yoko Ono, including conceptual artworks, installations, objects, experimental films, performances, sound and text works.
YOKO ONO (b. 1933, Tokyo) began her career in the 1950s. She worked closely with George Mačiūnas, the founder of the Fluxus movement, and her first solo exhibition (featuring works from the Instruction Paintings series) was held in 1961 at New York's AG Gallery, also founded by Mačiūnas and Almus Salcius. In addition to her innovative paintings and performances, the artist later began to create objects, films and spatial installations, to bring other artists together in collaborative actions, and to invite the audience to actively engage in artistic processes. In her performances and other works, Yoko Ono raises issues closely related to the feminist movement, such as the female body and women's empowerment in society. The artist's name is also often associated with the pacifist movement, which remains more than relevant to this day.
One of the central components of Yoko Ono's work are ideas. They can be serious or playful, utopian or poetic, expressed in words or actions, realised as objects and installations or simply in the imagination of the audience. Her work is highly political and social, not losing its relevance with the flow of time, encouraging the viewer to critically assess the world around them and, by using the language of art, to actively express one's position on important socio-political issues. The Learning Garden of Freedom is an invitation to get to know Yoko Ono's work and to reflect on the seriousness and playfulness of life as well as the power of imagination.
The exhibition is organised by the Contemporary Art Centre (Vilnius, Lithuania) in collaboration with the Serralves Museum of Contemporary Art (Porto, Portugal), Studio One (New York, US) and M.K. Čiurlionis National Museum of Art. Exhibition curator – Yoko Ono's long-time friend and curator of Fluxus exhibitions, Jon Hendricks. The exhibition is a part of Kaunas – European Capital of Culture 2022 program.
Opening hours:
Tuesday–Wednesday, Friday–Sunday
10:00 a.m. – 6:00 p.m.
Thursday
11:00 a.m. – 7:00 p.m.
Address: Kaunas Picture Gallery (K. Donelaičio st. 16, Kaunas)
Image: Minoru Niizuma © Yoko Ono