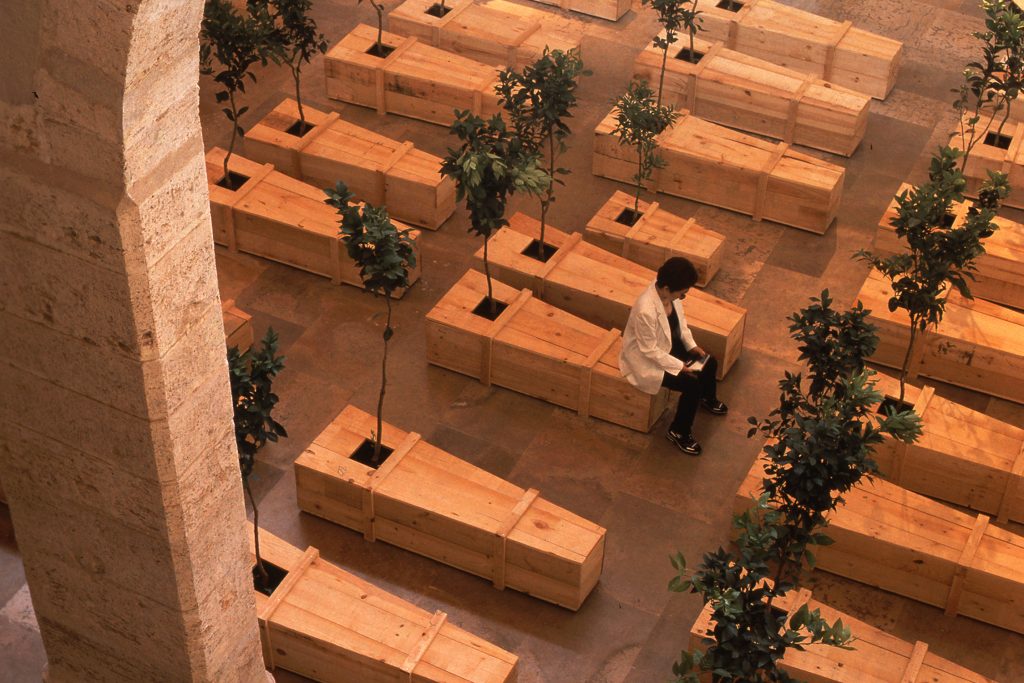 From 23 January 2022, an installation by the world-renowned artist Yoko Ono, Ex It, will be on display in the main operations room of the Kaunas branch of the Bank of Lithuania, a famous example of interwar Kaunas architecture. The installation consists of 100 wooden coffins of different sizes with fruit trees growing out of them and a sound recording of living nature. It is a powerful image of the aftermath of war or natural disaster, a metaphor for the resilience of life and the vitality of nature. As the artist herself says, "Ex It is life as a continuation"
This installation is the precursor to Yoko Ono's major retrospective, which will be presented at Kaunas Picture Gallery in September this year. The exhibition, titled "The Learning Garden of Freedom", will feature a wide range of works reflecting Yoko Ono's various creative periods and practices, from conceptual art and experimental cinema, to spatial installations, objects and textual works. It is also symbolic that the exhibition is being held at the Kaunas Picture Gallery located right next to the childhood home of George Mačiūnas, the founder of the Fluxus movement. This gallery also houses a special Fluxus cabinet dedicated to George Mačiūnas. "The Learning Garden of Freedom" is an invitation to see freedom in the everyday, including outside the exhibition gallery. Yoko Ono's works will also be on display in Kaunas's public spaces and at the Emanuel Levinas Centre of the Lithuanian University of Health Sciences.
YOKO ONO (b. 1933 in Tokyo) is a renowned pacifist and artist of global significance, who received the Golden Lion Award for Lifetime Achievement at the 53rd Venice Biennale in 2009. Starting her artistic career in the avant-garde art scene in New York in the 1950s and 1960s, Yoko Ono established herself in the field of conceptual art, creating performances, music, films, sculptures and installations. Early in her career, she worked closely with the founder of the Fluxus movement, George Mačiūnas. Her work is highly political and social, while her artistic practice is inspired by everyday life and the desire to preserve the delicate balance between the forces of power and good.
The exhibition is organised by the Contemporary Art Centre in collaboration with the Serralves Museum of Contemporary Art (Porto, Portugal) and Studio One (New York, US), and curated by Yoko Ono's long-time friend and curator of Fluxus exhibitions, Jon Hendricks. It is a continuation of the exhibition held at the Serralves Museum in 2020, specially adapted for Kaunas, George Mačiūnas' hometown. The exhibition is a part of Kaunas – European Capital of Culture 2022.
"Ex It" working hours:
I‑III 8.30–15.30
IV 8.30–18.00
V 8.30–14.30
VI-VII closed
Visiting the installation is free of charge.