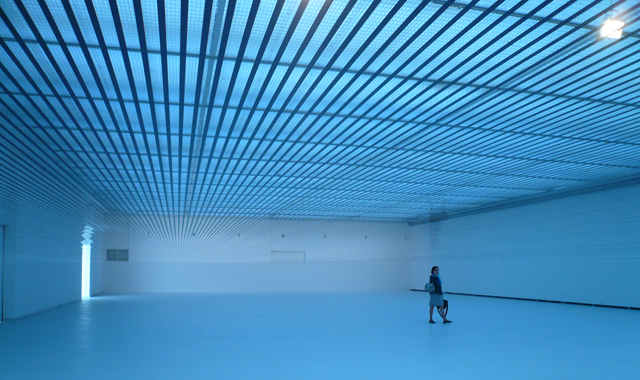 Zilvinas Kempinas, a Lithuanian artist who has been living and working in New York since 1998, will introduce two installations for his solo show. They will be shown in the Great Hall and Northern Hall, two of the Contemporary Art Centre's largest spaces. The last time Kempinas' works were seen at the CAC was in 1999 when he took part in Lithuanian Art 1989 – 1999: Ten Years. Since then, Kempinas has held solo exhibitions at several prestigious venues, including P.S. 1 Contemporary Art Center in New York (2004), and Palais de Tokyo in Paris (2006). Today, he is mentioned in international art magazines as one of the most significant rising young artists. He was recently featured in the March issue of Art Review magazine as one of its 'Future Greats: 25 Artists You Need to Know.' Zilvinas Kempinas has also been invited to be the Artist in Residence at the highly esteemed Atelier Calder, France, from January to June of 2008. Currently Kempinas' works are exhibited for public viewing at the Margulies Collection in Miami. His third solo show at Spencer Brownstone gallery recently opened in New York on May 3rd. His works are part of the JPMorgan Chase Art Collection in New York, Fond National d'Art Contemporain in France, and several private art collections.
At the CAC, Kempinas will install Parallels and Flying Tape. Parallels is a new work that will completely occupy the largest hall while being at the same time totally non intrusive. The hall, which is an ideological white cube, will host lines of un-spooled videotape stretched horizontally over the heads of the visitors throughout the entire length of the room the size of a football field. The installation unites paradoxical and ephemeral phenomena by revealing the sculptural characteristics of videotape and transforming the spatial perception of the hall.
Flying Tape was first exhibited in 2004 at Spencer Brownstone Gallery, New York, it hthe CAC's Northern Hall and will be more than twice as large in scale than previous installations. A circle of several industrial fans will keep a gigantic loop of videotape levitating in midair. As a symbol of high technology fighting the law of gravity, un-spooled videotape appears rather like a poetic gesture than a conventional art object.
In Kempinas' works, light often becomes an integral part of the piece, air circulation provides structure, and banal videotape is used as a sculptural material instead of as media. While using unusual and minimal means of expression, Kempinas constructs monumental and visually stimulating installations that focus on the direct interaction with viewers and their experience of movement in a space.
Art critics, Mark Rappolt of Art Review, observe the minimalism in Kempinas' works, and Roberta Smith of The New York Times note the striking optical characteristics of his pieces. In the words of Mark Rappolt, Kempinas 'offers a timely reminder of how rich and rewarding even the most minimal of works can be.' Roberta Smith writes, 'Mr. Kempinas has an unusual ability to derive the maximum effects from the slightest of means. It gives his work a resonant economy and, for all its banality, a poetic relationship to the world at large.'