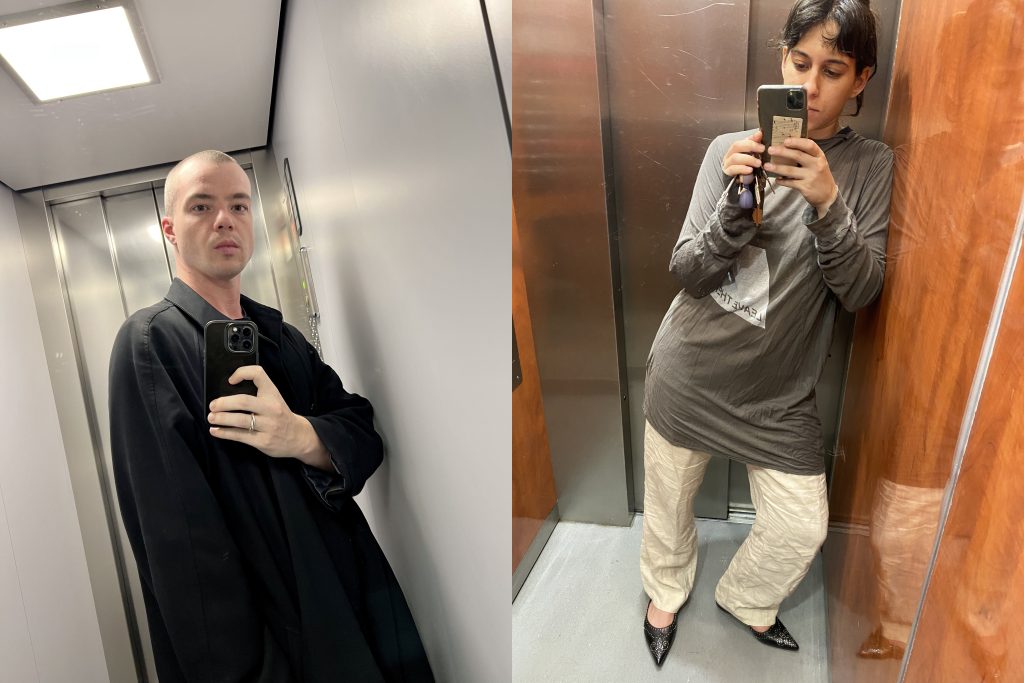 This spring, the Contemporary Art Centre in Vilnius concluded an invitation-based competition and announced that Tom Engels, a curator based in Brussels and Graz, will lead the artistic vision of the 15th Baltic Triennial. After Engels' appointment in March 2023, he invited Maya Tounta, a curator and writer based in Athens, to join him as co-curator. The main programme of the fifteenth edition will take place in mid-2024 in the reopened main building of the CAC.
Maya Tounta is a curator and writer who lives and works in Athens, Greece. She is currently the director of Akwa Ibom, a nonprofit exhibition space that she co-founded with Otobong Nkanga in 2019. At Akwa Ibom, Tounta has staged shows by Rosalind Nashashibi and NBA (Agency of New Way: Nick Bastis, Liudvikas Buklys, Gintaras Didžiapetris, Dalia Dūdėnaitė, Ona Kvintaitė and Elena Narbutaitė), Thanasis Totsikas, Jason Dodge, Ellen Gallagher and Dora Economou, Marina Xenofontos and Nicole Gravier, among others. Through Akwa Ibom and together with Radio Athènes and Melas Martinos, she represents the Estate of Christos Tzivelos and the archive of George Tourkovasilis. Together with Gerda Paliušytė, Gediminas G. Akstinas, and Liudvikas Buklys, Tounta is a co-founder of the space Montos Tattoo in Vilnius. From 2021 to 2022, she worked as the Art Director at e-flux journal. From 2017 to 2021, she worked in close collaboration with Otobong Nkanga in connection to Nkanga's Carved to Flow (2017–ongoing), from which Akwa Ibom emerged. Together, they curated a series of public programmes for documenta 14 in Athens and Gropius Bau in Berlin, hosting talks by Newton Harrison (of Harrison Studio), Maria Thereza Alves, Fernando García-Dory, Iris Touliatou and others. Tounta's forthcoming projects include a presentation of Blue Gardenia, a photonovel by Helena Papadopoulos, as well as a group show departing from the work of fashion designer Kostas Murkudis with contributions by Murkudis, Jodie Barnes, Marietta Mavrokordatou, and Lenard Giller.
Tom Engels works at the junction of the visual arts and performance. Since October 2021, he has been the artistic director of Grazer Kunstverein, where he has presented artists such as Sandra Lahire, Celeste Burlina, Iris Touliatou, Maria Toumazou, Marija Olšauskaitė and Miloš Trakilović. In 2021, he initiated front, a series of storefront exhibitions in Brussels featuring artists such as Trevor Yeung, Elena Narbutaitė, Julie Peeters, and Hamish Pearch. His other curatorial projects include trust & confusion in collaboration with Xue Tan and Raimundas Malašauskas, Tai Kwun Contemporary, Hong Kong (2021); Touch Release, Nassauischer Kunstverein, Wiesbaden (2021); Techno-Intimacies in collaboration with Joanna Zielińska, M HKA Museum of Contemporary Art, Antwerp (2021); Hana Miletić: RAD/Materials, Haus, Vienna (2020); another name, spoken, Jan Mot gallery, Brussels (2017); and the series Matters of Performance at the Royal Academy of Fine Arts (KASK), Ghent (2017–2019). He is the co-editor of Conversations in Vermont: Steve Paxton (Sarma, 2020) for which he received a Robert Rauschenberg Foundation Archive Research Grant. He has collaborated with choreographers such as Alexandra Bachzetsis during documenta 14 in Athens and Kassel, and Mette Ingvartsen for steirischer herbst in Graz, as well as with Mette Edvardsen, Bryana Fritz and PRICE/Mathias Ringgenberg. His first project in Vilnius was Circa 2022, a two-picture exhibition curated together with Raimundas Malašauskas for Montos Tattoo in 2022.
THE BALTIC TRIENNIAL was first held in Vilnius in 1979 as an exhibition showcasing young Baltic artists working in a non-conformist spirit. Since then, it has steadily grown to become a major international exhibition in Northern Europe. The previous edition, The Endless Frontier, was curated by Valentinas Klimašauskas and João Laia in 2021, and included book launch events organised internationally throughout 2022.