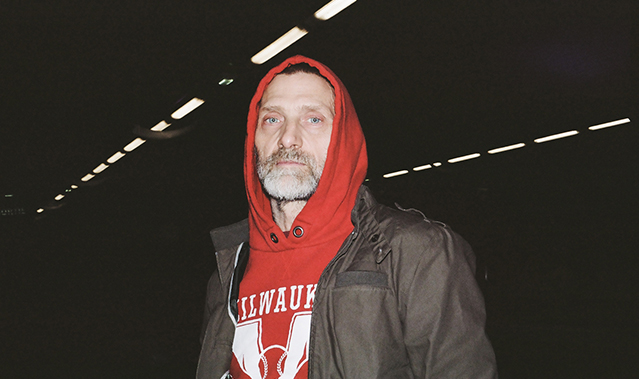 On occasion of the exhibition-performance Skateboard Prayer, or head below the Heart by Eglė Budvytytė and the New Baltic Dance Festival, the CAC and Lithuanian Dance Information Centre and are kindly inviting to register for a workshop Body, relationships and perceptions measures by Benoît Lachambre. The workshop is produced by Par B.Leux and will take place at the Arts Printing House, Studio 3 (Šiltadaržio Street 6, Vilnius).
Workshop schedule:
Monday May 9: 15pm – 18pm
Tuesday May 10: 16pm – 19pm
Wednesday May 11: 16pm – 19pm
Active in the dance community since the 1970's, Benoît Lachambre learned about Releasing in 1985. This kinesthetic approach to movement and its use of improvisation became an important influence on his choreographic work. He decided to immerse himself in an exploratory approach to movement and its sources, to seek out the authenticity of movement while de-colonizing the body from its institutional practices. He founded his own company in Montréal in 1996, christening it Par B.L.eux, 'B.L.' for his own initials and 'eux' for the artists he chooses to create with, and who have become central to his artistic process. Thanks to collaborations with internationally-renowned choreographers and artists from diverse disciplines such as Boris Charmatz, Sasha Waltz, Marie Chouinard, Louise Lecavalier, Meg Stuart and musician Hahn Rowe, Benoît Lachambre develops and promotes his approach to dance with his company Par B.L.eux as his artistic platform.
With the educational programs developed by Benoît Lachambre, Par B.L.eux invests in the promotion of singular techniques and approaches in dance such as Releasing, improvisation, composition, and body consciousness. In all, some 60 workshops have been given over the past 15 years, at such places as Tanz Im August (Berlin, Germany), ImPulsTanz (Vienna, Austria), Circuit Est and Usine C (Montréal, Canada), P.A.R.T.S (Brussels, Belgium), SNDO (Amsterdam, The Netherlands) and Atelier de Paris – Carolyn Carlson (Paris, France).
Using notions of connection, building corporeal and spatial architectures in flux, Benoît Lachambre aims to re-create the connections between beings, and free them from their constant pressure. At the heart of his practice is his desire to free the body from all political, socio-cultural and aesthetic hierarchy, reducing them to their simplest energetic, organic and perceptive function. Our consciousness can be heightened through the dynamism of the connection that exists between bodies, between beings.
The workshop Body, relationships and perceptions measures unfolds around the idea of movement in a particular time and space, a living space. It is an invitation to a deep exploration of a more authentic consciousness of the connection between possible and potential bodies. Participants will be invited to question and reflect upon existence, and how they perceive empathetic movement in the process of choreographic creation.
Exploring notions of Somatics, as well as the distribution of weight and gravitational forces, Benoît Lachambre offers the opportunity to re-connect with a choreography of feeling, of the immutable.
The number of participants is limited. Priority is given to those who can attend all three days of the workshop. Please register by sending an email to [email protected]
Photo credit: Elsa Okazaki