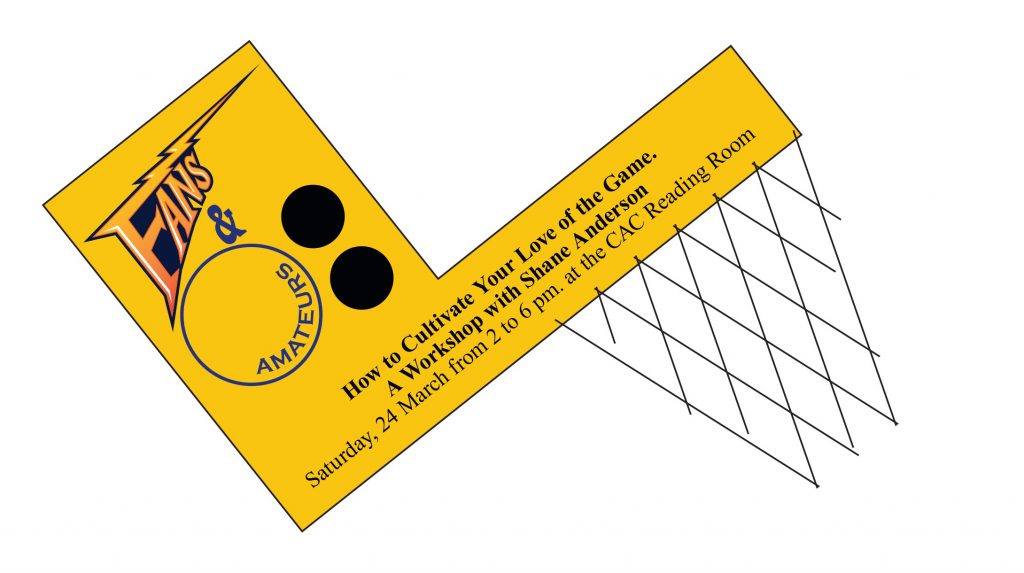 Saturday, 24 March from 2 to 6 pm. at the CAC Reading Room
A workshop, where we will look at the ways in which divergent disciplines have correspondences and converge in sometimes surprising ways that have the potential to benefit us and our work as creative people. This will be approached through the eyes of the fan, the amateur, the beginner – the kind of person who is still plastic, adaptable – and we will abandon the rigidity of modern categorizations and their constrictions. We will not renounce the craft of the expert but will rediscover the love of our first encounters with our chosen mediums so that we can unite knowledge and love to create future wisdom. This will be framed by Shane Anderson's own efforts to investigate the ways in which basketball, politics, spirituality and aesthetics intersect. Through a series of exercises, we will work towards establishing the presence necessary for expression and for being better attuned with ourselves and the world around us.
The Starting Five:
C Basketball
PF Politics
SF Spirituality
SG Poetry
PG You
Second String:
Depending on the participants
Match ups:
the self vs. the self
beginners vs. experts
fluidity vs. stringency
precision vs. sloppiness
love vs. arrogance
Shane Anderson is the author of Études des Gottnarrenmaschinen (Broken Dimanche Press), Soft Passer (Mindmade Books) and Meditasjoner over melaniske stråler (Beijing Trondheim, trans. Mathias R. Samuelsen). In 2017, he was a poet-in-residence at the Skulptur Projekte's Kur + Kür, and his translation of Ulf Stolterfoht's The Amme Talks was published by Triple Canopy. Currently, he is working on a nonfiction project that is an experiment in living. Intersecting the fields of poetry, spirituality, sports and politics, "Strength in Numbers; or, Learning Hope from Sports" investigates how the four core values of the Golden State Warriors – joy, mindfulness, compassion and competition – can be integrated into one's own life. He lives in Berlin.
Workshop will be held in English. Admission is free. RSVP [email protected]