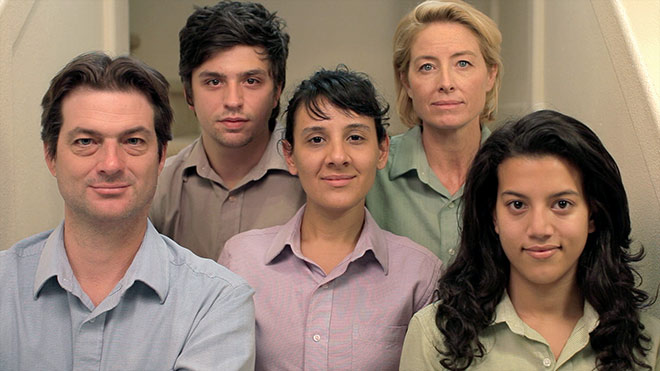 Friday, 13th February 2015, 7 pm at CAC Cinema
Sean Grattan's work investigates ways in which ethics are negotiated through a public environment saturated by images, where human behaviour is increasingly governed by goal determining narratives. His films and installations implicate ideas that emerge from the experience of life in Los Angeles, CA where he also works at the collaborative studio run by Lizzie Fitch and Ryan Trecartin. His films and installations have shown in festivals and exhibitions in Europe, New Zealand and the US.
HADHAD is Grattan's most complex project to date. The movie uses the traditional horror genre storyline of a group of people encountering an intruder from the outside. The action takes place in a present of domestic modern architecture, contextually displaced by the limited compositional palette. The performances emphasise the absurd aspects of an obsessive use of rational language, via the subject of technological determinism. The script implies the paradox emerging from the 'being in the world' view of the Californian ideology and adjunct culture, with its utopic-distopic manifestations, particularly emphasising their effects on the individual. It opens up an uncanny view of those ideas from the 'inside out', provoking thought and pathos on the narrative of the post-human, the dehumanising effects of technology and what Jean-François Lyotard called the Inhuman, not without a good dose of humour and a thrilling sense of parody.
After the screening the author of the film and curator of the programme "Californian Films" Francisco Janes will invite the public for the discussion about HADHAD. The film and the discussion will be in English. The entrance is free of charge.
Sean Grattan graduated from the University of Auckland with a BA (Philosophy) in 2001, and again in 2008 with a BFA (Honours) from Elam School of Fine Art. He graduated with an MFA from California Institute of the Arts in 2012. Sean Grattan will be present at the screening.
Francisco Janes is a media artist currently doing research and a series of films / installations about practices of art and utopia in Lithuania. He studied languages at the FLUL and Photography and Media at Ar.Co in Lisbon, graduated with an MFA from the California Institute of the Arts in Los Angeles in 2012 and was a fellow at the Experimental Intermedia in New York in 2008.