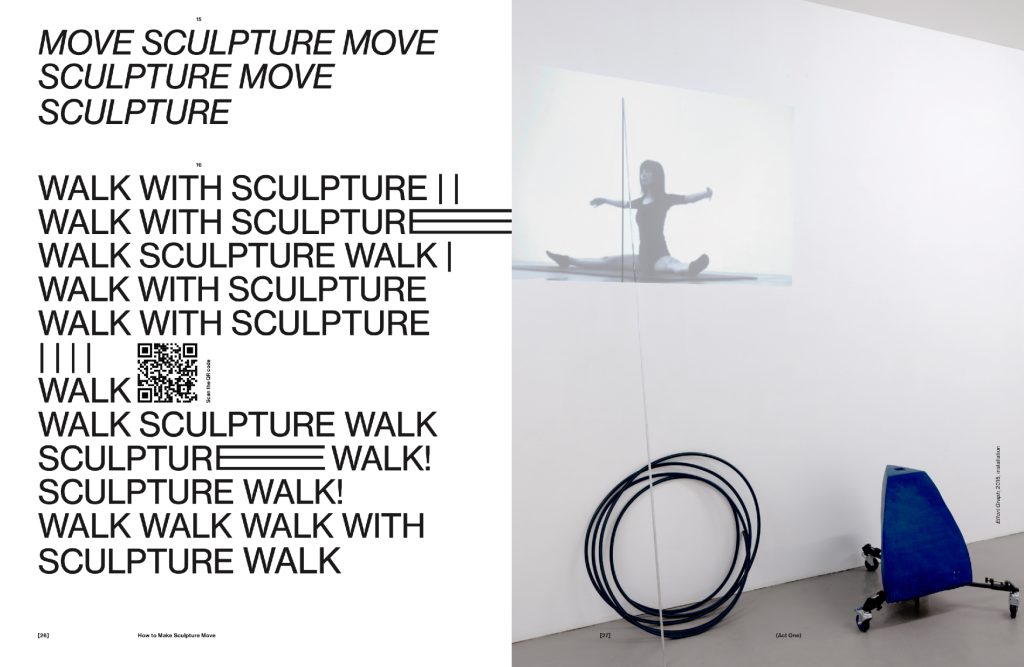 Reading video performance and Q&A with the authors
Wednesday, 26th October at the CAC Reading Room (Aušros vartų str. 5, entrance from Pasažas str.)
Sculpture, choreography, and installation are the main pillars of Ruta Butkute's art practice. Her method is guided by a reflective approach to the physicality of sculpture and the relation to the performers, audiences, and the spaces in which they interact. Departing from the principle that an object has a function hidden inside, she redefines the origins and functions of materials and forms in order to evoke their intricate capacity to move. Her education in ceramics affects her use of primal material aspects, such as weight, scale, mass, and gravity.
During her Rijksakademie residency (2014–15) in Amsterdam, Butkute started to translate sculpture into different mediums. Over the course of several years, she developed a new medium she calls 'sculptural performance', which places objects, sculptures, and space in a transformative field, enabling the direction of movement. Actions like grounding, falling, jumping, rising and sinking are keywords in a process close to creating sculptures.
In this book, vital elements of her latest work are brought together to create an experience that manifests Butkute's unique take on sculpture and performativity. New meanings behind the images unfold via a poetic assemblage of linguistic genres, word play and critical references, culminating in conversations the artist had with her peers on 'how to make sculpture move'.
About the makers:
RUTA BUTKUTE (1984, Kaunas, Lithuania) studied at Vilnius Academy of Arts, Gerrit Rietveld Academie, and Rijksakademie, Amsterdam. She was artist in residence at the Lower Manhattan Cultural Council, New York, Creative residency Arita, Japan, Work Space Brussels, and Rosas P.A.R.T.S, Brussels. Her work has been shown (inter)nationally at many galleries and art institutions: Fons Welters, Amsterdam, Contemporary Art Centre, Vilnius, Teruhiro Yanagihara Gallery, Osaka, Japan, CC Strombeek, Grimbergen, Kaaistudios, Brussels, Kunstmuseum The Hague, De Nederlandse Bank, Amsterdam, Valkhof Museum, Nijmegen. Bradwolff Projects Amsterdam presented her at Art Rotterdam AVL Mundo, Atelier Van Lieshout. She received an Established Talent Grant from the Mondriaan Fund, and development grants from Amsterdam Fonds voor de Kunst. Her work is part of the art collection of the AMC. She is represented by Bradwolff Projects, Amsterdam.
EMILY KOCKEN Kocken (1963) is a writer and an artist. Her debut novel Witte vlag (Querido, 2013) about a young couple surviving the art world, was nominated for the Academica Prize of Literature. De kuur was on the 2017 list of De Groene Amsterdammer's favorite books. Lalalanding (2021) was described in Trouw as a 'magical web of history and intimate relations'. Other activities include moderating events in the realm of art, performance, philosophy, and literature.
The event is free. There will be artist's books on sale.
ISBN: 978-94-92852-58-8, art: Ruta Butkute, text: Emily Kocken, graphic design: Eva van der Schans (Inedition), printer: die Keure, number of pages: 112, book size: 21×27.5cm, binding: softcover, language: English, release date: July 2022, publisher: Jap Sam Books.
This publication by Jap Sam Books has been made possible with the generous support of Mondriaan Fund, Jaap Harten Fonds, Amsterdams Fonds voor de kunst and Prins Bernhard Cultuurfonds/Tijlfonds.