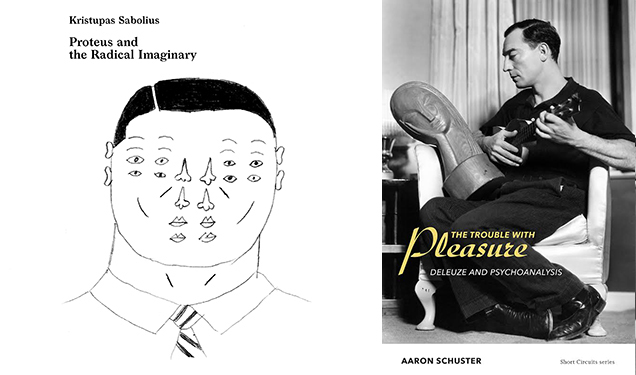 Friday, July 15 at 6pm at the CAC Reading Room
The CAC Reading Room proposes two new philosophy books for summer reading: this coming Friday the two authors will present Kristupas Sabolius' take on the topic of imagination, his first major translation to English published as part of XII Baltic Triennial, and Aaron Schuster's book on the problem of pleasure and (dis)satisfaction published by MIT (Cambridge, MA).
Aaron Schuster on Kristupas Sabolius' "Proteus and the Radical Imaginary": "Proteus and the Radical Imaginary is an original and timely re-evaluation of the concept of the imagination in relation to aesthetics and contemporary art. Starting with the humorous story of Nasreddin's eighteenth camel, an odd surplus that is necessary in order for reality to work (in this case, solving the riddle of a father's mathematically perplexing testament), Sabolius goes on to discuss the metaphysical, aesthetic, political, phenomenological, and technological dimension of the imagination; providing both a philosophical history of the notion as well as making a unique intervention in contemporary debates. (…) Sabolius' theoretical discussions are enlivened by analyses of a surprising mix of films, artworks, popular culture, and theatre, including: exhibitions by Raimundas Malašauskas (Photo Finish in Vilnius, and the Lithuania/Cyprus "oO/Oo" Pavilion at the 55th Venice Biennale), the underwear-stealing gnomes of South Park, Michelangelo Antonioni's Blow Up, Victor Erice's The Spirit of the Beehive, and the avant-garde performances of Romeo Castellucci."
In the meantime, Aaron Schuster's "The Trouble with Pleasure. Deleuze and Psychoanalysis" is, according to London's Freud Museum's Chair Dany Nobus, "a book whose magnificent troublesome pleasure will cause people to complain for years to come". "Schuster's witty and inventive reading uncovers a startlingly unfamiliar [Gilles] Deleuze: a partisan of pure complaint, a celebrant of inconsolable lamentation, and a philosopher of negativity beyond negation," writes philosopher Ray Brassier; "Aaron Schuster re-innervates Deleuze's engagement with psychoanalysis and reveals the unexpected congruence between Deleuze's conception of desire as what is unlivable in life and [Jacques] Lacan's elaboration of the drive as what is undead in death". The book draws examples from a myriad of topics and contexts – from Spinoza to comedy on television, from history of schizophrenia to Thomas Mann or Russian revolution.
Please read further about Schuster's book here: https://mitpress.mit.edu/books/trouble-pleasure
Sabolius' book has been translated from Lithuanian by Tomas Čiučelis. English and Polish editions are both published by the Contemporary Art Centre, Vilnius in collaboration with Bunkier Sztuki Gallery of Contemporary Art, Kraków in the context of one of the exhibitions of the XII Baltic Triennial.
Admission to the event is free. The launch is organised with the bookstore [six chairs] BOOKS. Please contact the bookstore or the Contemporary Art Centre in regards to purchasing the books.