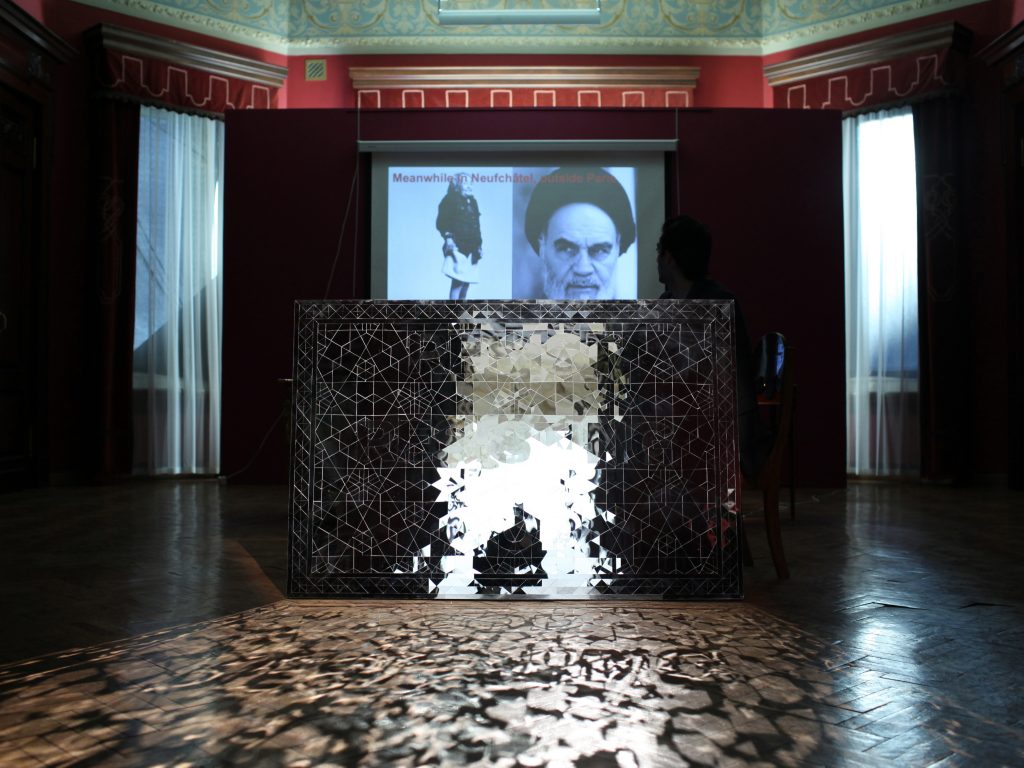 Friday 8 September at 7 pm at the CAC Cinema
79.89.09 looks at two key modern moments – the Iranian Revolution of 1979 and Poland's Solidarnosc movement in the 1980s – as bookends to the two major geopolitical narratives of the 20th and 21st century, respectively – Communism and political Islam. Originally a contribution to Berlin-based biannual 032c, 79.89.09 looks at issues as disparate as the monobrow, modernity, and the Beach Boys in understanding the importance of these two moments for the greater Middle East today. The lecture acted as the opening salvo to Slavs and Tatars' second cycle of work, Friendship of Nations: Polish Shi'ite Showbiz, an investigation of the unlikely points of convergence in the economic, cultural, and political histories of Poland and Iran, respectively. From 17th century ́s Sarmatism to the 21st c reform movement in Iran, the advent of the 24 hour news cycle to the role of crafts as citizen diplomacy, 79.89.09 presents a lateral look at the two countries in their quest for self determination.
79.89.09 has been presented at over 20 institutions and universities across the globe including the Dallas Museum of Art; Museum of Modern Art, Warsaw; Columbia University, NY; REDCAT, Los Angeles; Rietveld Academy, Amsterdam; Cal Arts, Pasadena; ARGOS centre for art and media, Brussels; IASPIS, Stockholm; NAK, Aachen; Sharjah Art Foundation, Sharjah; Asia Society Texas Center, Houston; Villa Empain, Brussels, Stanford University.
Duration: 50 minutes
Slavs and Tatars is a faction of polemics and intimacies devoted to an area east of the former Berlin Wall and west of the Great Wall of China known as Eurasia. The collective's work spans several media, disciplines, and a broad spectrum of cultural registers (high and low). The collective's practice consists primarily of three activities: exhibitions, publications, and lecture-performances.
This event is part of Slavs and Tatars exhibition Mouth to Mouth at CAC Vilnius.
Exhibition is supported by the Lithuanian Council for Culture, Ministry of Culture of the Republic of Lithuania and ifa (Institut für Auslandsbeziehungen)
Exhibition is made in partnership with the Adam Mickiewicz Institute, acting under its brand Culture.pl
Image: Slavs and Tatars, 79.89.09, 2009–ongoing, lecture-performance. Photography by Kolya Zverkov