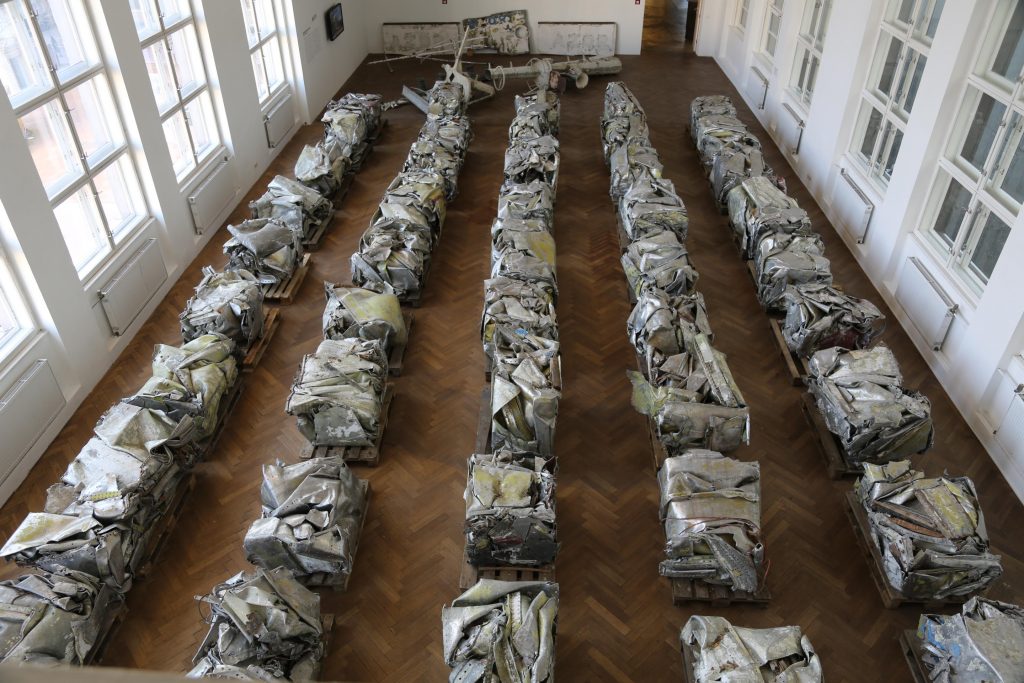 Thursday 10 January 2019 at 4 pm, CAC Reading Room
Contemporary Art Centre Vilnius invites you to the presentation of a new addition to our Sculpture Yard – "Guernica Syndrome – Azor" by Spanish artist Fernando Sánchez Castillo – on Thursday, 11 January, 4 p. m. at the CAC Reading Room. The event will feature a screening of the artist's accompanying video work and present more information on its origin and meaning.
This work by Fernando Sánchez Castillo is his characteristic intertwining of the parallels of history, politics and culture. The material used for this installation is not a random array of metals – it utilizes parts of Azor, the former yacht of Francisco Franco, a totalitarian dictator who governed Spain in 1939 – 1975, processed into irregular cubes of a similar volume by a recycling plant. Azor was used not only as a representational vessel and site for international negotiations, but also, in an attempt by later rulers of Spain, exploited for tourism, provoking controversial responses within the society.
By working with difficult historical and political themes, the artist looks for ways to not only commemorate painful and traumatic historical episodes, but also to test them in a new cultural vocabulary, to rethink the positions of specific events, figures and artefacts today. Referring to the famous painting by Pablo Picasso in its title, the work actually employs an opposite method than the one used by the painter – instead of revealing the scale of a painful event through the language of geometry, Castillo utilizes it to neutralize history, creating a flexible composition with undertones of absurdity. Although the work employs minimalist aesthetics characteristic to modern and contemporary art, its form is far from neutral.
The difficult historical and political origin of the material creates a complex piece – a problematic monument and a parody of it at the same time. Displayed in Vilnius, which, during World War II, was also a transit point for Franco's Blue Division – a unit of Spanish army volunteers and conscripts – Guernica Syndrome is a relevant and outspoken work, which allows to sustain the discussion of the working of totalitarian forces and the possibilities to recognize and subdue them in today's political climate.
After the presentation, "Guernica Syndrom – Azor" will be exhibited at the CAC Sculpture Yard, which is accessible to visitors every day from 12 to 8 p. m. free of charge.
The event is free of charge and will take place in English.
Fernando Sánchez Castillo (b. 1970, Madrid) is a Spanish-born artist who employs a multilayered critique of the discourse of monuments, thus interrupting their agencies of power and representation, and revealing how history is constructed from multiple positions of authority. Sánchez Castillo graduated from ENSBA, Paris and was a resident at Rijksakademie Amsterdam. The artist has held solo shows in Spain, Austria, Germany and Sweden and participates actively in group exhibitions, amongst them – the Riga Biennial; Manifesta 11; Instanbul, Tel Aviv and Sao Paulo biennials and exhibitions at Tate Modern and MOMA. Amongst his recent projects for public space are installations in Den Haag, Mexico City, Shanghai Biennial and Moscow. His works are included in collections of Centre Georges Pompidou, Centro de Arte Reina Sofía, MUMDAM Luxembourg, Central Museum Utrecht and Skisernass Museum Lund. Fernando Sánchez Castillo is part of the Research Team of United Nations Geneva – PIMPA (Memory, Politics and Art Practices).
Picture: Fernando Sánchez Castillo installation "Guernica Syndrome – Azor" from parts of Francisco Franco jacht "Azor": aluminium, steel, bronze; 2012-2018. Instalation at Linz, 2014.