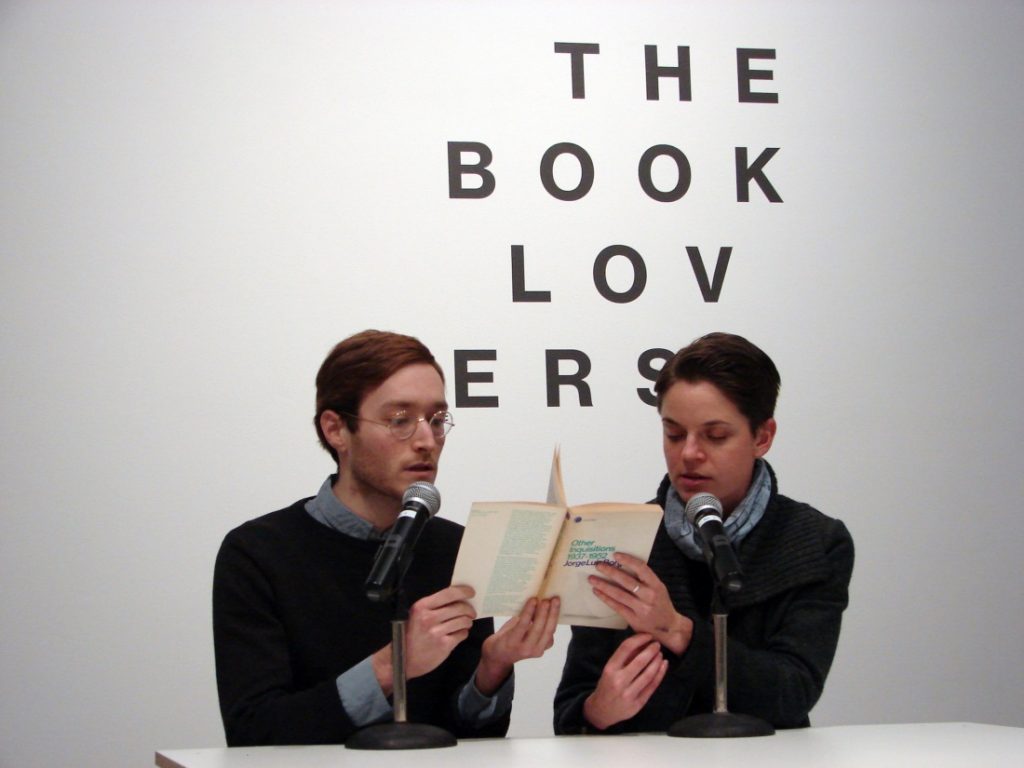 Saturday 10 September at 6 pm, the CAC Reading Room
The Book Lovers (collaboration of Joanna Zielińska and David Maroto) are on the Baltic tour which wraps up at the CAC Reading Room. Not a Concept but a Story is a triple event: the research presentation, the reading party and the public display of the personal collection of artist's novels.
First, The Book Lovers are bringing a discussion on the concept of artist's novel. Introducing traits that are particular to narrative literature into the visual arts implies the accentuation of features such as narrative, fiction, imagination and identification. How to write an artist's novel? How to read it? Joanna Zielińska and David Maroto will also give a personal account of their experience in dealing with this kind of practice through five years of collaboration, and the many positions they occupy as curators, as artists, as researchers, as detectives. There will be an emphasis on their current project, Tamam Shud, an artist's novel by Alex Cecchetti, commissioned by The Book Lovers and the Centre of Contemporary Art Ujazdowski Castle, Warsaw.
After a short break, the audience will be summoned to a Reading Party and the fourth installment of The Loyal Reader Series. A selection of passages from most noticeable artist's novels will be read out loud by Nicholas Matranga, who will invite the audience to participate in a collective reading experience.
Finally, the position of the last in the Baltic tour becomes an occasion for staying longer with the books. The public display of artist's novels from the personal collection of The Book Lovers will be on view at the CAC Reading Room through to September 23rd. This collection includes all the salient examples of the medium of artist's novels: Sweet Sweat by Justine Frank and Roee Rosen (2009), A, a Novel by Andy Warhol (1968), Fuck Seth Price by Seth Price (2015), Rape New York by Jana Leo (2009) and some 23 more.
The Book Lovers is the name of the collaboration between Joanna Zielińska and David Maroto. It is focused on the research of the artist's novel employed as a medium in the visual arts. Its base is the creation of a collection of artist's novels with a parallel online database, which is complemented by a series of exhibitions and public programmes, pop-up bookstores, and publications – all of this in partnership with a number of international art institutions.
The event is supported by Lithuanian Council for Culture and Mondriaan Foundation (The Netherlands).
Image: The Book Lovers pop-up bookstore (de Appel, in collaboration with Buchhandlung Walther König, Amsterdam 2014). A New Refutation of Time, performance by Mark Geffriaud.