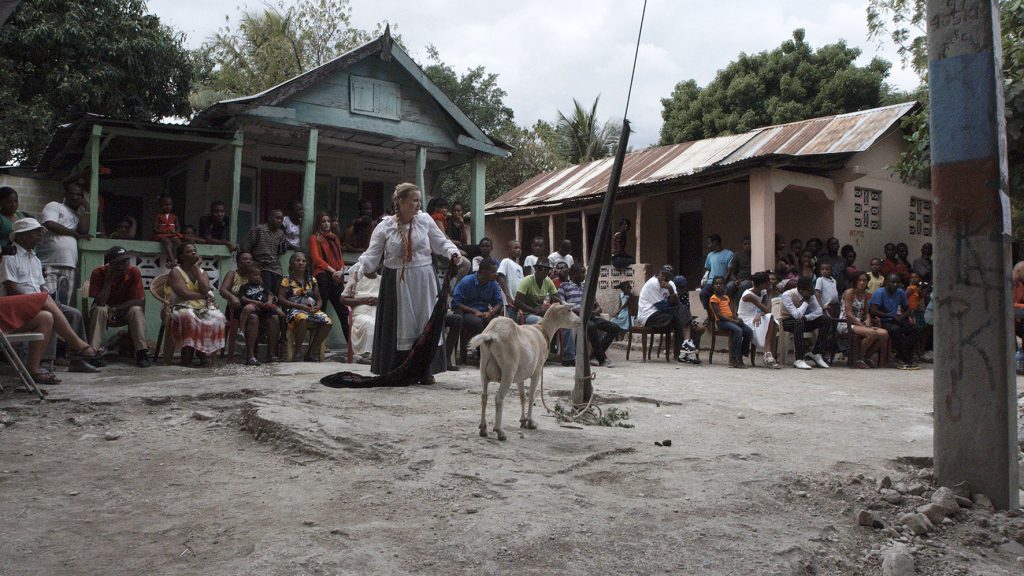 C.T. Jasper & Joanna Malinowska: Halka/Haiti: Return to Vilnius
2016.01.29–03.13
Curator: Magdalena Moskalewicz
Exhibition opening: Friday 29 January at 6pm
168 years after its premiere, in Vilnius, the Polish opera Halka returns to the city—albeit in a very particular form.
A tragic love story composed by Stanisław Moniuszko during Russian occupation of Poland-Lithuania, Halka was recently staged in Cazale, Haiti for 'Le Polone'—the descendants of Polish soldiers who fought for the Haitian Revolution in early 19th century. Sent to Saint-Domingue by Napoleon to put down the slaves' rebellion, the Poles—who had joined Bonaparte to fight for the independence of their own country—are believed to have united with the local insurgents. As a result, the Poles were granted an honorary status of blacks and settled in Haiti, where their descendants still live today in a mountain village of Cazale.
A collaboration between Polish opera singers and Haitian dancers and musicians, this unusual performance was documented on film, and is now shown in Vilnius as a large-scale projected panorama. The project was originally created for the Polish Pavilion at the 2015 Venice Biennale, where it was presented as an inquiry into the power of traditional artistic forms in constructing national identities—especially in a complex postcolonial context.
Bringing Halka/Haiti back to Vilnius adds a post-imperialist element to the story, further complicating the image of the national identity that the opera was supposed to represent. Considered a fiasco after its 1848 Vilnius premiere, Halka only achieved critical acclaim in Warsaw, a decade later. Now, the Polish national opera returns to Lithuania via Haiti—a rather unexpected twist in the complex, interwoven histories of the two neighboring countries.
Organizers: Contemporary Art Centre, Vilnius and Zacheta National Gallery of Art, Warsaw
Collaboration: Culture.pl
Exhibition partners: The Polish Institute in Vilnius and The Erasmus+ Programme