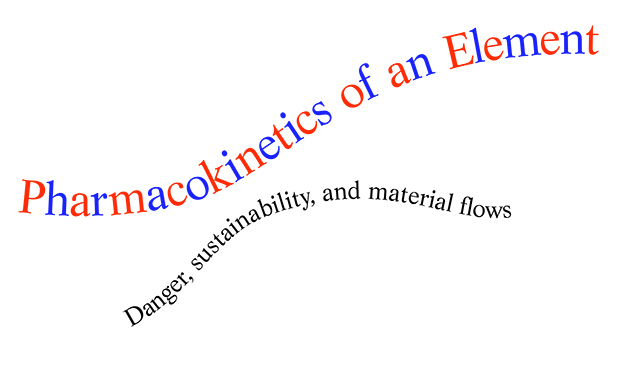 Next in the event programme of the "Prototypes" project is a series organised by CAC together with curator and writer Jennifer Teets titled "Pharmacokinetics of an Element." The series takes place over two weekends: November 8–9 and November 28–29 2014. Consisting of readings, discussions, talks and trips, this series aims to build novel methods for approaching new materialisms, the current climate change debate, and wastes and fluids of bodily selves, both human and machinic. This series will explore the benefits and limitations to new modes of thinking about and through material.
The series relies on an assumption that is common in pragmatist ecology, a practice rooted in the interface of the cultural and the natural: all human endeavours are considered one with the natural world. Along the lines of writings of one of the key authors of pragmatism, American philosopher John Dewey, the series turns towards the idea that to fully understand human involvement in the natural world, the disciplinary boundaries must be opened. "Pharmacokinetics of an Element" pursues this ethos by thinking about the role of nature in the arts, social sciences, and humanities today.
Saturday, 8 November 2014 from 2pm to 5pm
Energy and Technology Museum, Rinktinės St. 2, Vilnius
Materiality is often defined in opposition to immaterial things: to spirit, ideas, or abstractions. But what if materiality is a question of scale? Where does one material begin and another one end and how do the processes impact human activity and human bodies themselves? Building off of seminal texts on dangerous materials and the philosophy of materiality, this session probes the questions herein with the aim of spilling over into praxis.
Guest of the day: art theorist, doctor in culture studies Eglė Rindzevičiūtė, currently associated with Sciences Po (Institute of Political Studies) in Paris.
Practically, this event works as a reading group who will meet to build an inquiry during the session. Texts are introduced and discussed actively and within the horizon of a controversy – in this case the Ignalina Nuclear Power Plant. The day after the session is realised, the group will take part in a field excursion to view an asbestos removal operation and waste facility in Vilnius that complements the reading and its inherent problematic. Together these experiences offer personal meditation with active observation, and pay tribute to Dewey's notion of "art as experience".
Participation, snacks and tea are free, but please register by sending an email to [email protected] and in return you will receive the seminar texts – come prepared with questions! The working language is English. Registered participants will be provided with further details regarding the excursion on Sunday November 9.
Later in November the series will host London based art historian and cultural critic TJ Demos whose forthcoming book is dedicated to art and ecology. For the programme of other events of "Prototypes" and the Triennial please follow updates on the CAC's website.
—
Jennifer Teets is a Paris based American writer, curator, and researcher whose most recent exhibition "Elusive Earths" opened at "Etablissement d'en face Projects" in Brussels in September 2014.
Eglė Rindzevičiūtė is an art theorist and doctor of culture studies who is currently associated with Sciences Po (Institute of Political Studies) in Paris. In October 2013 she read a lecture "Future Management and Public Politics: in search for rationality and control" at the Institute of International Relations and Political Science in Vilnius. Forthcoming with Routledge is the book "The Struggle for the Long Term in Transnational Science and Politics: Forging the Future", co-edited by Rindzevičiūtė with Jenny Andersson.