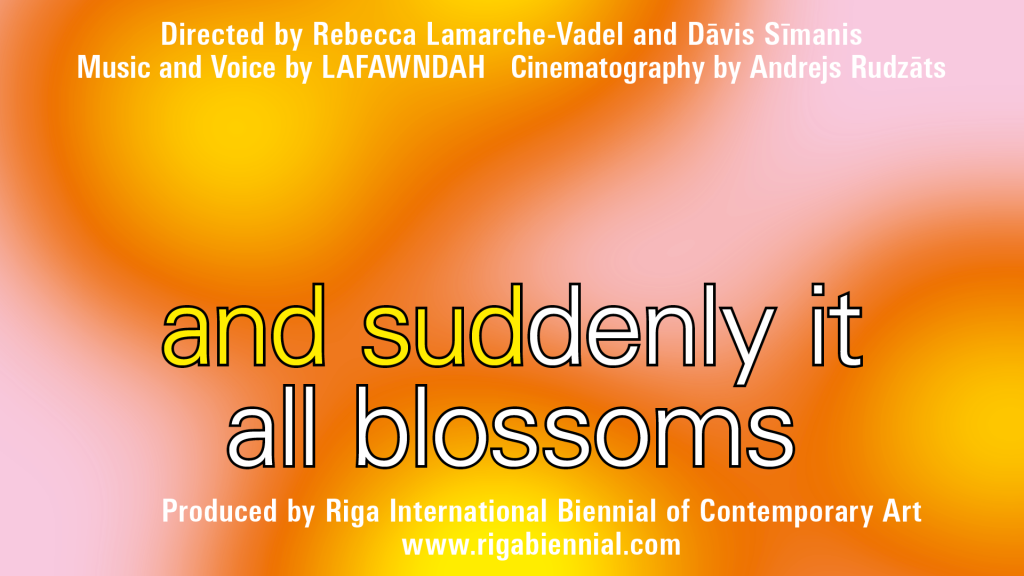 Event date: February 11th, 2022
Event time: 19:00
Contemporary Art Centre and Riga International Biennial of Contemporary Art (RIBOCA) are kindly inviting you to the screening of the feature film and suddenly it all blossoms, which was filmed during RIBOCA2 in 2020. Before the screening, the RIBOCA team will give an introduction to the film and the upcoming RIBOCA3 that will open in the summer of 2022.
ABOUT "AND SUDDENLY IT ALL BLOSSOMS"
In March 2020, plans for the second edition of the Riga International Biennial of Contemporary Art (RIBOCA2), a major international contemporary art event, were abruptly interrupted by the rapid spread of COVID-19 just a few weeks before the opening. Chief curator Rebecca Lamarche-Vadel decided to transform the exhibition into a film set, reimagining the biennial as a feature film in anticipation of the closure of all public events in summer 2020.
RIBOCA2, and suddenly it all blossoms, was developed out of the urgent pursuit for alternative perspectives and propositions to humanity's obsession for growth, expansion, and consumption. Among the 46 participating international artists were Lithuanians artists Eglė Budvytytė, IevaKrish, Lina Lapelytė and Mantas Petraitis Augustinas Serapinas, and Anastasia Sosunova, who presented their new artworks in the shared abandoned and iconic industrial space of Andrejsala in Riga. The exhibition sought to reimagine the ways humans inhabit the world and to explore ideas for building conscious and inclusive relationships with our endangered planet.
The resulting film was shot during the exhibition's three-week run. From September 2021, and suddenly it all blossoms has been screened in London, Berlin, Paris, Moscow, Basel, Riga, and Athens. Also, for a limited time the film was exclusively available online.