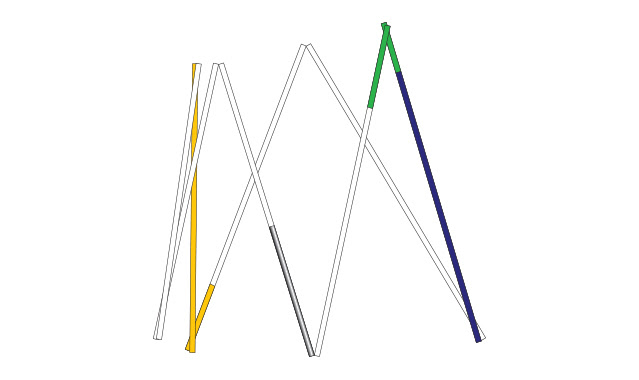 On November 27th, 7 pm (AV17) gallery together with Contemporary Art Centre are pleased to invite to a performance "Spell Action #1" by an artist Rūta Butkutė. It is the second artist's performance presented in Lithuania; this time specifically adapted for the space of the CAC.
During the performance "Spell Action #1", sculptor, installation and performance artist Rūta Butkutė examines how objects set within a spatial environment can have a guiding effect on people. The space, where the performance is set in, dictates the objects' mobility, whilst the objects dictate the movements of people. It is one of the artist's attempts to "bring objects to life", while simultaneously analysing a ternary relation between human, object and space.
The performance "Spell Action #1", directed by Rūta Butkutė, will be performed by two dancers from the Netherlands – Yurie Umamoto and Elisabeth Raymond. While moving together with objects, they will be exploring the space of the Contemporary Art Centre. Abstract objects of the performance are specifically adapted to fit the proportions of the artists' bodies. Physical strength, discipline and coordinated actions are required to set those objects in motion, as well as to create a harmonious movement.
Rudolf von Laban – a dance theoretic, one of the pioneers of contemporary dance in Europe, had a strong impact on Butkutė's creative work and theoretical ideas. Contemplating on Laban's movement analyses, the artist creates a choreography of moving objects and people, during which bodies and objects transform from one sculptural form to another. The constant changes in the choreography of the performance means that the installation transforms into a kinetic sculpture, that invariably communicates with its surroundings.

Rūta Butkutė (b. 1984) is a Kaunas-born artist currently living and working in Amsterdam. She studied at Vilnius Academy of Arts, Gerrit Rietveld Academy and Rijksakademie in Amsterdam. Butkutė actively organises solo exhibitions (Kaaistudios and Rosas P.A.R.T.S in Brussels, Fons Welters gallery in Amsterdam, Teruhiro Yanagihara gallery in Japan, etc.) as well as participates in group shows all over the world. The artist has also participated in various residencies and was awarded with several individual scholarships.
The performance "Spell Action #1" is organised by the gallery (AV17) and the Contemporary Art Centre. The (AV17) gallery is one of a few Lithuanian galleries that exclusively exhibit contemporary object, sculpture and installation art. A solo show of Rūta Butkutė "Somersault" is open until November 30th, in the (AV17) gallery, Totorių str. 5.