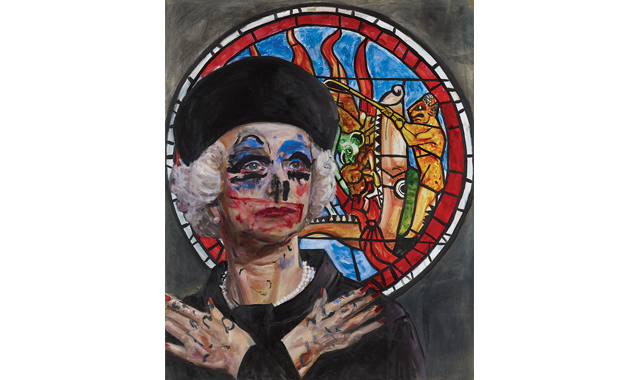 Friday March 4 at 6 pm at CAC Reading Room
In his essay, featured in the catalogue of The Painting Show, art historian John-Paul Stonard uses the term 'Blithe Spirit' to describe a new spirit of painting in the UK; one which is ingrained in our everyday existence but in the most varied and intelligent way, evolving since the turn of the millennia. Stonard's term delineates this 'spirit' as both ironic and necessary; given the saturation of images and technology so prevalent in the 21st Century.
The current exhibition on display at the CAC: The Painting Show, is a showcase of contemporary UK artists who are at the forefront of this vigorous approach to the traditional art practice of painting. Two participants of the exhibition – Dexter Dalwood and Dawn Mellor will discuss with Linsey Young (curator of The Painting Show) the status of contemporary painting and how they both conceive of – or perhaps manipulate – their own individual status as painters in the backdrop of our information and digitally saturated age. While Dexter Dalwood's work takes motifs from contemporary culture, art history, personal memories and collective experience when constructing his scenes; Dawn Mellor uses the portrait of celebrities as her inspiration to evoke the lust and desire inherent in celebrity culture and its neurotic behaviour through the aggressive nature in which she applies her paint.
This talk is the culminating event of The Painting Show – an exhibition organized by the British Council that is on display at the Contemporary Art Centre until March 6.
Linsey Young holds the position of curator, British Contemporary Art at Tate Britain with responsibility for the Turner Prize, Duveen Commissions,exhibitions and displays. Prior to this she was curator at the British Council in London where she developed a major touring exhibition of recent British painting and developed commissions in Nigeria with CREATE London and Laura Aldridge.
Dexter Dalwood was born in Bristol, England in 1960 and currently lives and works in London. He received a BA from Central St. Martins College of Art and Design, London in 1985;and an MA from the Royal College of Art, London in 1990. In 2010 Dexter Dalwood was shortlisted for the Turner Prize. Dexter Dalwood's collages and paintings have been exhibited in numerous solo and group shows, building a strong reputation over the last two decades in the UK, Europe, and the United States.
Dawn Mellor was born in Manchester, England in 1970. After studying at the Manchester Polytechnic between 1988 and 1989 she went on to study her BA (Hons) in Fine Art at Central Saint Martins in London until 1992 and from there she graduated with an MA from the Royal College of Art, London (1994-96). Dawn currently lives and works in London and is self-represented. For almost 20 years Dawn Mellor's painting practice has been informed by celebrities and icons from various fields and eras. These subjects frequently undergo a grotesque deconstruction, the narrative of which she contextualises anew and furnishes with fresh symbolism and iconography.
Image: Dawn Mellor, Claire as Madam as Queen Elizabeth II, 2013. Courtesy: British Council