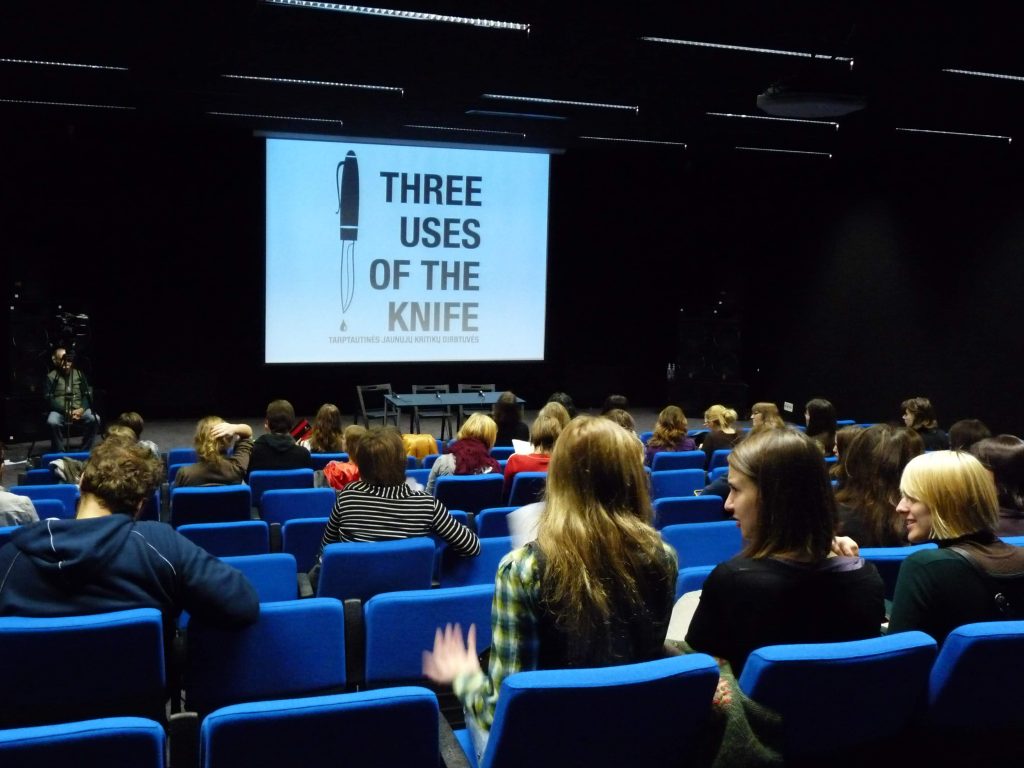 Friday 6 November
Auditorium of the National Gallery (Konstitucijos Ave. 22)
'Three Uses of the Knife' is a series of bi-weekly meetings with experienced writers, editors, critics and thinkers. It is aimed at young writers at the beginning of their careers, young editorial initiatives, artists interested in writing and publishing, as well as for the speakers, who were invited to revisit the genres, forms, functions and strategies of contemporary art writing and criticism. The title of the series is borrowed from David Mamet's book Three Uses of the Knife: On the Nature and Purpose of Drama.
The third meeting takes place at the Auditorium of the National Gallery (Konstitucijos Ave. 22) Friday 6 November. Please note that location has been changed recently as the event was intended to take place at the Reading Room of the Contemporary Art Centre instead.
Programme:
10.00-12.30
Will Holder conducts a workshop (on the relation between text and the labour of watching, reading and listening) with works by John Baldessari, Chris Mann, Alain Robbe-Grillet, Gertrude Stein and Alvin 'Youngblood' Hart & Sharon Jones, amongst others.
12.30
Lunch
13.30
Video conference from Istanbul with writer and filmmaker Jalal Toufic.
14.30-17.00
Will Holder presents a programme (on the relation between text and the labour of the viewer, reader and listener) of works by Robert Ashley, Samuel Beckett, Umberto Eco, Jan Maus and Adam Pendleton, amongst others.
Will Holder is editor of F.R.DAVID, a journal concerned with the position of reading and writing in the arts (published twice-yearly by de Appel, Amsterdam). He co-curated 'Talk Show' at the ICA in May 2009, an exhibition and season of events concerning speech; is currently editing and designing a biography of American composer Robert Ashley in the form of operatic notation (together with Alex Waterman); and rewriting William Morris' News from Nowhere (An epoch of rest) (1876) into a guide for design education and practice set in 2135.
Please find more information about the events and their participants here
Please register for the events you will be attending; you will find a registration form at or at the venue of each event just before the event begins.
Admission is free. All talks are in English.
The project received support from The Culture Support Fund and The Ministry of Culture of the Republic of Lithuania.
Organisers: artnews.lt, Contemporary Art Centre (CAC), Information Centre of the Lithuanian National Gallery (IC NGA).