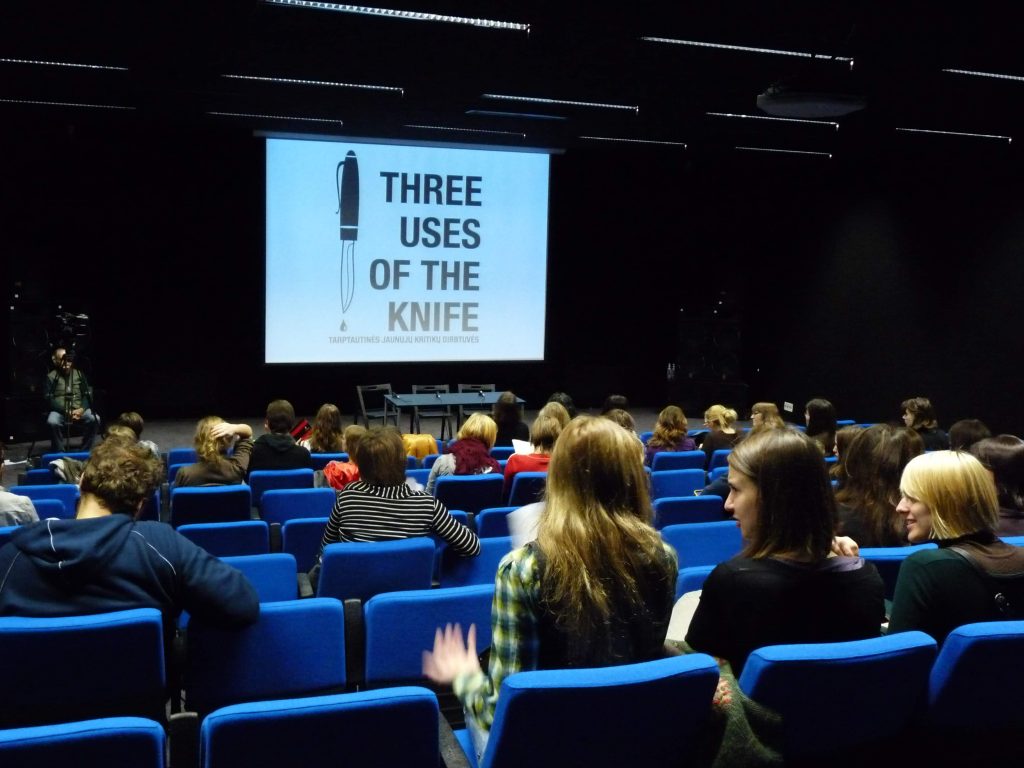 'Three Uses of the Knife' is a series of bi-weekly meetings with experienced writers, editors, critics and thinkers. It is aimed at young writers at the beginning of their careers, for young editorial initiatives, for artists interested in writing and publishing, as well as for the speakers, who were invited to revisit the genres, forms, functions and strategies of contemporary art writing and criticism. The title of the series is borrowed from David Mamet's book Three Uses of the Knife: On the Nature and Purpose of Drama.
The fourth meeting takes place at the Auditorium of the National Gallery (Konstitucijos Ave. 22) Friday 20 November.
Programme:
9.45-10.00
Dalyvių registracija
10.00-10.45
'Gender, sexual politics and art', a presentation by Artūras Tereškinas.
10.45-11.30
'Art work as political event: N.& G. Urbonas Villa Lituania and Ch. Schlingensief Bitte liebt Osterreich', a presentation by Audronė Žukauskaitė.
11.30-12.15
'Inspirations of Georges Bataille's art criticism', a presentation by Gintautas Mažeikis.
12.15-13.15
Lunch
13.15-14.00
'Inter-iconicity and intertextuality. Methods of interpretation of contemporary art', a presentation by Erika Grigoravičienė.
14.00-16.00
A panel discussion moderated by Laima Kreivytė with participation of Agnė Narušytė.
Please find more information about the events and their participants here.
Please register for the events you will be attending; you will find a registration form at www.3-uses-of-the-knife.lt/en or at the venue of each event just before the event begins.
Admission is free. Day 4 will be conducted in Lithuanian.