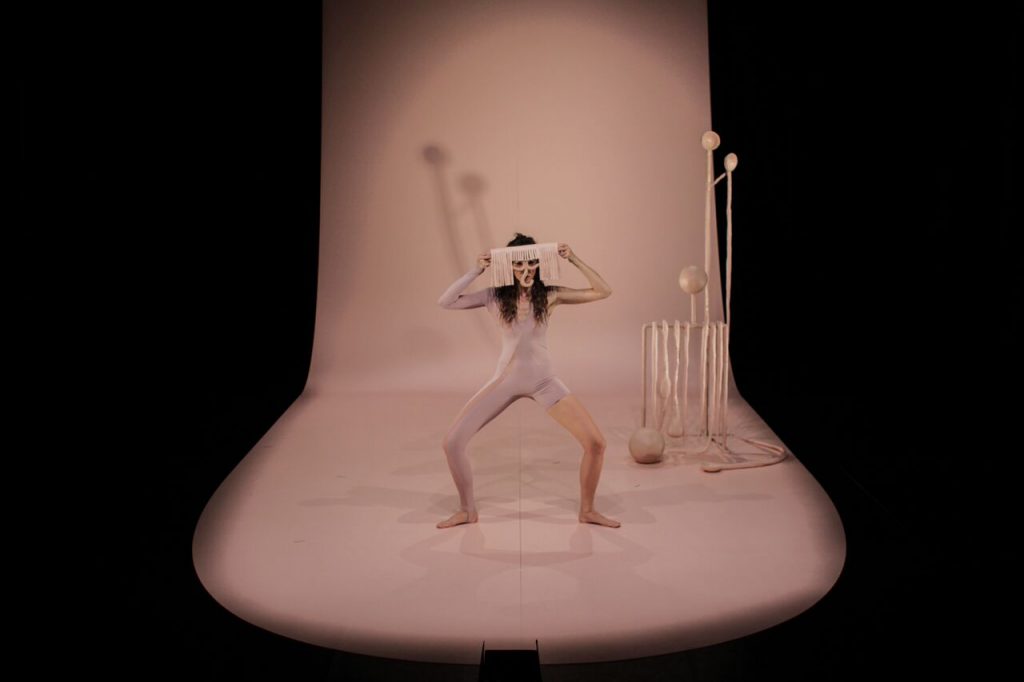 Tuesday 1st December 8 pm and Wednesday 2nd December 5.30 pm, Lithuanian National Drama Theatre, Small Hall
The tongue bares the memory of the animal, the instinctual, but also is the main tool with which we express our humanness. The performance Tongue PhD (2015) consists of ten chapters each investigating a different metaphoric lens of the tongue.
The tongue is a bridge between madness and intelligence. The more the tongue sticks out of the mouth, the less socially appropriate it is. In this performance, academic vocabulary slips into poetic register and animalistic formulas where imaginative creatures gurgle in their environments.
This solo piece fuses elements of physical theater, academic reverie, dance and Butoh [jap. 舞踏], structured in the format of a PhD dissertation.
Concept, text, choreography and scenography: Ieva Misevičiūtė
Artistic advisor, Outside eye, Butoh training and Movement development with Vangeline
Light design: Eugenijus Sabaliauskas
Sound composer: Gediminas Žygus. Music: Gediminas Žygus, Sebastian Butt and Charlie Murray
Costume: threeASFOUR
Script co-writer: Michael Portnoy
Scenography development: Arts Centre Buda
Prop making assistant: Lucia Love Mooney-Martin, Ryan Patrick Martin
Consulting and curating: Maaike Gouwenberg
Producer and curator: Monika Lipšic
DURATION: 1h
Premiere in Vilnius, December 1-2nd, 2015
Belgian Premier, Playground festival, Leuven November 19-20, 2015
The Kitchen, NY February 10-11, 2016
In some languages, the same word denotes both a speech and a tongue. Tongue is the muscle of speech, stretching through the whole body. It is a link between human communication and the instinctual world, between insanity and common sense.
Metaphor is a figure of speech (a figure of a tongue), which assigns the value of an item to another on the basis of their similarity. The connection of the tongue acting as a metaphorical device is can be established in the origin of the word μεταφέρω [metafero] – to carry, move, transport – the tongue, the secretion of saliva, the information transmitted and connections formed through them become a metaphysical network of human relations. Did you know that a person salivates three whole pools of clear, sticky liquid throughout one's lifetime?
Whilst humanity can just as easily subsist on direct speech and clicks of the tongue, it is precisely the understanding of metaphors and their alternate uses of the tongue (sticking it out further and touching), that have overridden the evolution of culture; some of humanity's biggest ideas only came to be understood through metaphors of the tongue, conveyed both verbally and physically. Monika Lipšic
Ieva Misevičiūtė (b. 1982) is a New-York based performance artist, holds a research MA in Cultural Analysis and MA in Political Studies from the University of Kaunas and Amsterdam respectively. 'PhD dissertation defense is one of the most exciting performances you'll ever do in the academic world' – says the artist. Misevičiūtė worked as a clown in the circus throughout her youth, has backgrounds in various movement and improvisation techniques. Today the geography of her shows is … wide. She has performed in such venues as (selected): MoMA PS1, The Kitchen, New York; Time-Based Art Festival, Portland; Beursschouwburg theater, Brussels; dOCUMENTA (13), Kassel; de Appel Art Center, Amsterdam; Center Pompidou, Paris; Performa 09 New York; Swiss Sculpture Exhibition Biel-Bienne, Le Mouvement: Performing the City and more. Her practice combines physical theatre, dance, stand-up, Butoh, perverted academic language and sculptural work.
Tongue PhD produced by CAC Vilnius will be presented Tuesday 1st December 8 pm and Wednesday 2nd December 5.30 pm, Lithuanian National Drama Theatre, Small Hall. Tickets on sale at CAC, Vilnius (Vokiečių str. 2) and on the entrance (Gedimino av. 4)
December 5th – 6th Saturday and Sunday 4-7 pm in the Arts Printing House, the artist will give a workshop CASCADE OF IDIOSYNCRASIES.
CASCADE OF IDIOSYNCRASIES, The aim of the workshop is to activate a broader creative apparatus through a number of physical and mental exercises, derived from Butoh, Action Theater and other dance/theater techniques. Sometimes we will be going into deeper states of mind in order to excavate and reach for a form of intelligence residing beyond our humanness. We will examine and collect idiosyncrasies – very personal occurrences in our minds and bodies. Eventually, we'll treat those as seeds for planting further creative acts: be it a dance, a character, a beginning of a film, a sculpture or a painting. This workshop is based on my belief that as artists we should first and foremost be experts on ourselves as very intricate creative machines (a study which most probably will take a life time). A type of vertical research in addition to a more horizontal collection of knowledge and facts.
Tongue PhD is commissioned and produced by Contemporary Art Centre (Vilnius) and co-produced by Playground (STUK Kunstencentrum & M-Museum, Leuven) as part of Corpus, network for performance practice. Corpus is Bulegoa z/b (Bilbao), CAC (Vilnius), KW (Berlin), If I Can't Dance (Amsterdam), Playground (STUK & M, Leuven), and Tate Modern (London).
Corpus is co-funded by the Creative Europe Programme of the European Union.