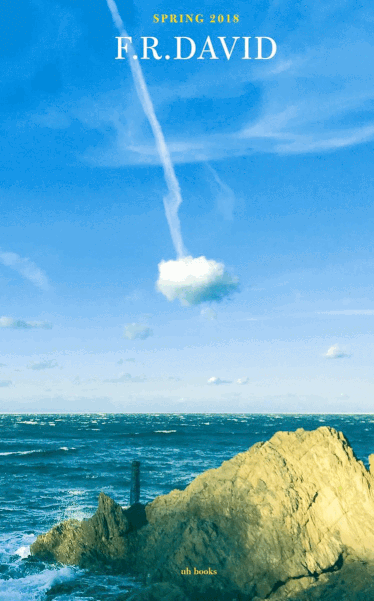 Sunday April 22, 7pm at the CAC Reading Room
Free admission
"Flurry," the 15th issue of F.R.DAVID, came about after being asked to propose ten books for acquisition by the Rietveld Academy library (Amsterdam) and give a talk about that selection. Preferring to reproduce original material over com¬mentary (or commentary as materiality), and allowing others to speak, Will prepared a reading back and forth between the ten books. It soon became clear that this reading could provide a back-bone for an issue of F.R.DAVID. Associated material came up in the process of transcription; plus a lengthy afterword by Danny Hayward, commenting on the poetry of Verity Spott.
Typographer Will Holder produces oral and printed publications with artists and musicians. He is preoccupied with conversation as dissonant model and tool for a shared set of publishing conditions—whereby the roles of commissioner, author, subject, editor, printer, reader and typographer are improvised and shared, as opposed to assigned and predetermined.
In 2015, aided by a Paul Hamlyn Award, Holder founded uh books, whose programme lies somewhere between the phonetic "uh", and the graphic a, highlighting the role of the printed page in the oral, the conversational, the moving and the sonic; recording and scoring a shared value and meaning where no single author-genius might take charge of a conversation/production. uh books publishes F.R.DAVID – a typographic journal addressing the position of reading and writing in relation to artistic practise – through which they divert funds from publisher-distributors' pockets back to supporting others' work through forthcoming books (with Emmie McLuskey, Lucy Skaer, Cara Tolmie, Chris Evans). Please support them by buying online, http://" target="_blank">www.uhbooks.directory.
Will Holder will also host an open lecture at the Vilnius Academy of Arts on April 23 and 24, please join: http://www.vda.lt/lt/naujienos/open-lecture-will-holder-our-values-make-us-different