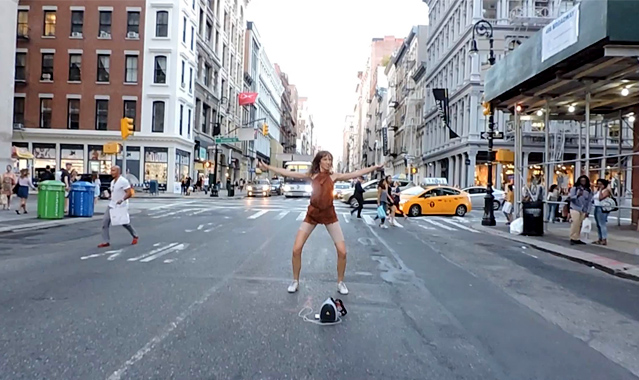 Tuesday 1 June 7–9.30pm at the Contemporary Art Centre
Admission is free, but registration is required. Please register by sending an email to [email protected] on or before Monday, June 6, 2016.
Ieva Misevičiūtė will share some of her methods including Butoh and improvisation techniques and strategies of dance and choreography (for instance, how to participate in dance workshop when you are not a dancer) as well as collective ritualistic dance practice that speaks in the language of gangster rap.
The workshop is open for everyone who is interested in using their sweaty humeri to think about new concepts, also those who suspect that humans are nothing else but insects who had wrapped themselves in meat, and those who have found themselves guessing if the mouth and the entire body are meant for one single purpose of keeping the tongue wet.
Misevičiūtė's new performance Tongue PhD will premiere in Lithuania on June 4 at 7pm at the Arts Printing House (Šiltadaržio Str. 6). The tickets are available at the Contemporary Art Centre and will be for sale at the venue on the day of the performance.
Those attending the workshop are invited to make sure they are wearing comfortable cloth. Most of the time we will be barefoot. We will move more than we will speak. If you have your favourite gangster rap outfit or an accessory, do take it along.
Ieva Misevičiūtė (b. 1982) is a New York based performance artist mainly showing in visual arts and theatre. "A practicing clown in her youth, and later trained in various techniques such as Butoh, physical theatre, dance, stand-up and every imaginable in-between, Misevičiūtė's acts distort social characters and behaviours by imbuing them with animality, existential contortions, philosophical slapstick, and hallucinogenic cleverness," writes art critic and curator Natalia Valencia in the magazine Crash. Misevičiūtė has Cultural Analysis MA from Amsterdam University and Political Science MA from Kaunas Vytautas Magnus University. Today the geography of her appearances is wide; she has performed in such venues as MoMA PS1 and The Kitchen and New York, as well as New York's Performa 09; Time-Based Art Festival, Portland; Beursschouwburg Theater, Brussels; dOCUMENTA (13), Kassel; de Appel Art Center, Amsterdam; Centre Pompidou, Paris; Swiss Sculpture Exhibition Biel-Bienne, Le Mouvement: Performing the City, and more.