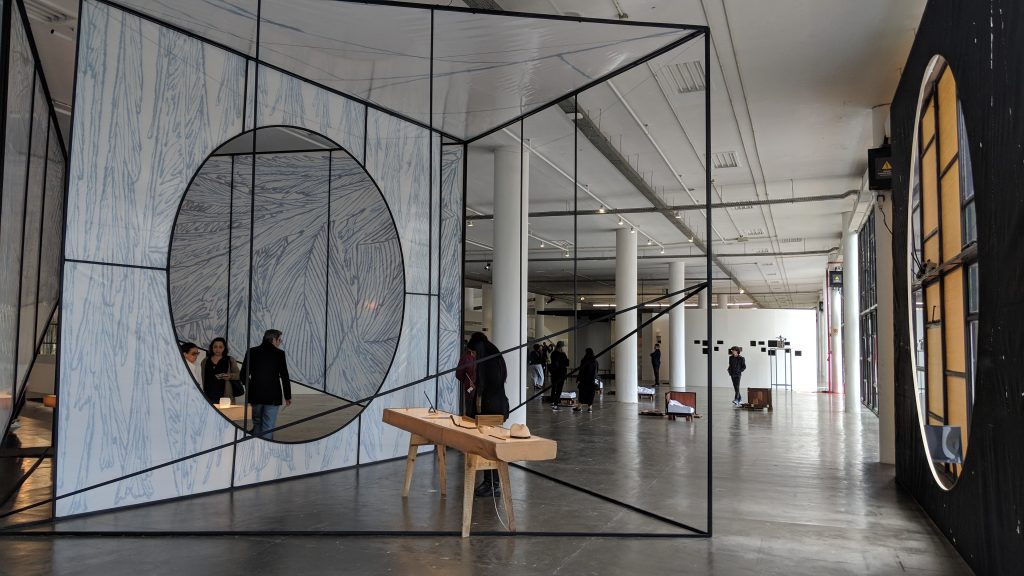 Contemporary Art Centre is thrilled to share that a new artwork by the Lithuanian artist Žilvinas Landzbergas will be presented in this year's São Paulo Biennial. Landzbergas represented Lithuania in Venice Biennial in 2017; São Paulo Biennial is the second oldest biennial in the world after Venice, and maintains a similar prestige. It is only the second time that it features artists from Lithuania.
In the biennial, which opens on 7 September, 2018 (preview days 4–6 September), Landzbergas will present a new installation in one of the biennial's seven group exhibitions, curated by the artist Claudia Fontes. The exhibition titled "O pássaro lento" ("The Slow Bird") displays artworks that investigate the plot of a fictional book and activate intersections of visual art, literature and translation. Landzbergas' new site-specific spatial installation will be displayed alongside artworks by Ben Rivers, Katrín Sigurdardóttir, Sebastián Castagna, Claudia Fontes and others.
The first São Paulo Biennial was held in 1951 and has become the largest contemporary art biennial in the Southern Hemisphere. This year, under the initiative of its chief curator Gabriel Pérez-Barreiro, it has abandoned unified thematic and structural devices, aiming to reflect the model of biennial itself and the relationship between different emotional relations and truths revealed in its title, "Affective Affinities". Instead of a singular showcase the biennial presents twelve artistic solo projects selected by Barreiro and featuring historical and contemporary Brazilian artists, as well as seven group shows curated by different artists – Antonio Ballester Moreno, Alejandro Cesarco, Claudia Fontes, Mamma Andersson, Sofia Borges, Waltercio Caldas and Wura-Natasha Ogunji.
The 32nd edition of the biennial in 2016 – "Live Uncertainty" – featured an ambitious project by the Lithuanian artist duo Nomeda and Gediminas Urbonas, currently based in the US. Both presentations of artists from Lithuania were organised by the Biennial in collaboration with the Contemporary Art Centre in Vilnius.
Žilvinas Landzbergas (born 1979 in Kaunas, Lithuania) lives and works in Vilnius, Lithuania. Landzbergas studied sculpture at Vilnius Academy of Arts and completed the De Ateliers postgraduate course in Amsterdam. Since 2003 Landzbergas has been exhibiting in Lithuania and internationally, including solo exhibitions at the Contemporary Art Centre, Vilnius and Modern Art Oxford, UK. His work has been presented in a number of international group shows including About the Trees at the Zentrum Paul Klee, Bern (2016), City Without Walls: Vilnius at the Liverpool Biennial (2010), Lunar Distance at De Hallen Haarlem (2009), Urban stories, X Baltic Triennial of International Art at the Contemporary Art Centre, Vilnius (2009). In 2017 Lanzbergas' project "R" was exhibited in the Lithuanian Pavillion at the Venice Biennale.
The project is supported by the Lithuanian Culture Council.