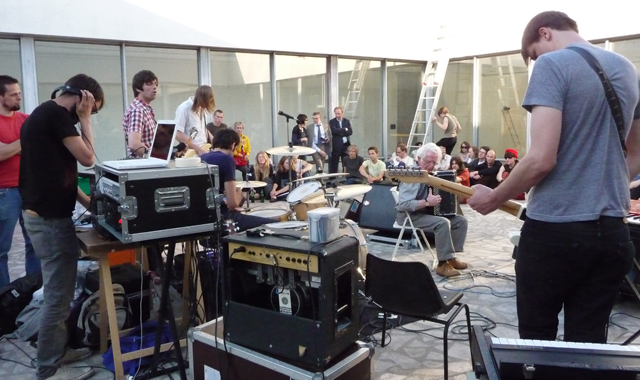 The ars viva prize has been awarded by the Cultural Committee of German Business within the BDI since 1953 with a different theme each year. The exhibition for this edition of the prize features work by artists who work with sound – an increasingly important genre in the contemporary art field. The artists are Florian Hecker, Nico Dockx Astrid Nippoldt and Marcellvs L. Their works range from sound art to installation and video where sound plays a crucial role.
Hecker is 'on the search for new sounds and unheard structures' with psychoacoustic and specifically placed Sound Pieces. Dockx also works with pure sonic structures, often using found sound material to sample and collage together performative sound installations to fill rooms. In the videos by Nippoldt and Marcellvs L, the sound plays with the physical presence of the images. Nippoldt's use of sound with the broken narrative of film sequences stating 'Tracks can be changed through sound'.
The ars viva prize is awarded by the Cultural Committee of German Business within the Federation of German Industries (BDI). Previous prize winners include Gerhard Merz, Rosemarie Trockel, Olaf Metzel, Albert Oehlen, Amelie von Wulffen ad Wolfgang Tillmans, and themes have ranged from 'time' or 'identity'. Ars viva 07/08 – Sound is touring, having shown in Museum Morsbroich in Leverkusen and Kunstverein Hannover.
This exhibition is supported by ifa and Siemens AG.
Friday 6 June
Vernissage Schedule
Press Preview, CAC Upper Foyer: 17:00
Exhibition Openings: 18:00
Performance/record release, CAC Upper Courtyard: 19:00
Building Transmissions vs Jean Martens
And concert: White Circle Crime Club
Viva Ars Viva! Party, Teachers' Union Building 'Vasaros terasa', Vilnius str.: 22:00
(With Florian Hecker, Kris Delacourt, Jochem vanden Ecker Deejaying)