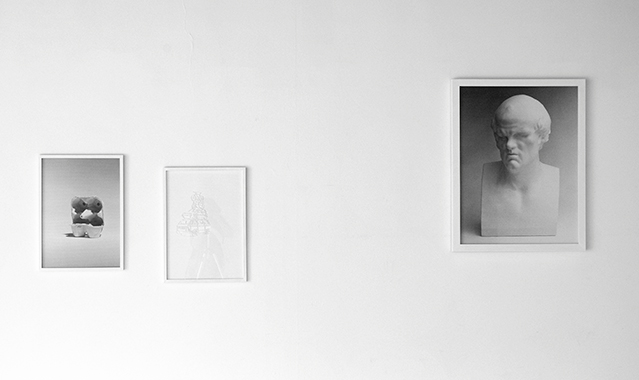 White pieces is a series of witty, coldly humorous drawings/objects that create an uplifting mood. The artist's thinking works in unexpected ways which collide with the viewers' expectations. For Arunas Gudaitis, therefore, the consciousness is more important than wit. Easily recognisable motifs of the pieces are taken from politics, every-day life, history and the history of art. In the exhibition you will find slightly altered versions of Bremen musicians, beardless Socrates, a cross section in the area of the forehead of the head of the plaster bust of Lenin, a photograph of legs with combed leg hair, a graphic expression of the 4 hour-long audio recording of the impeachment proceedings of removed President of the Republic of Lithuania Rolandas Paksas broadcast directly from the Parliament of the Republic of Lithuania condensed into one second, and more.
In the words of the artist, 'My goal is to create absolutely white drawings, which are almost invisible when viewed from a distance. This kind of invisibility is metaphorically connected to the phenomena of meaningless events. The series is connected to strength and power, and also the fragility and loss of power. The drawings consist of, or comment on, specific ideological images and signs about systems of the past, present or future. I am interested in the conflict between symbols – the "old versus new" relationship. I try to unfold the connections between signs in a dynamic, changing situation, where the old has not yet been forgotten and the new is still developing.'
CAC presents a modified version of White Pieces by Arūnas Gudaitis previously shown as part of the Political/Poetical" exhibition at Tallinn Art Hall, where it received critical acclaim and won the Estonian Art Museum prize.
Arūnas Gudaitis (g. 1973 m.) lives and works in Vilnius. He received an MA in Visual Arts from Vilnius Art Academy in 2001, organised solo exhibitions in Kunstraum Aarau art space (Switzerland, 2003), Display gallery (Prague, 2003), Antje Wachs gallery (Berlin, 2006). Gudaitis also participated in 24/7: Wilno – Nueva York, CAC (Vilnius, 2003); Faster than history, Kiasma Contemporary Art Museum (Helsinki, 2004); Unbalanced allocation of space, Contemporary Art Museum (Leipzig, 2004); Face the unexpected, Ostwall museum (Dortmund, 2006); Explum Arte Actual '08 (Murcia, 2008).