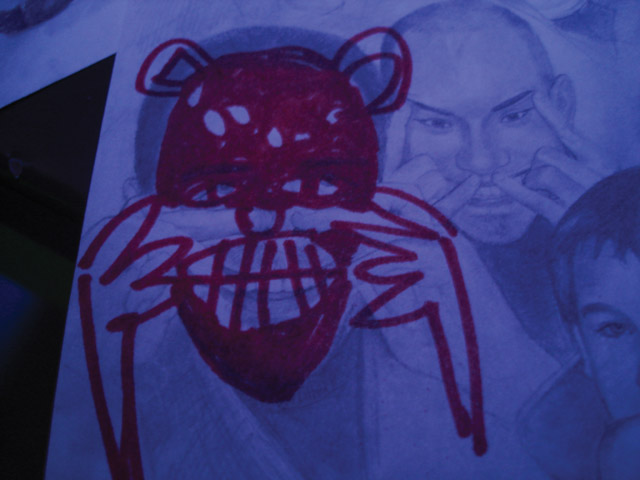 CAC TV is not just a phenomenon, it is a TV programme that you can see on TV1 channel and at www.tv.lt. It is a project of the Contemporary Art Centre, Vilnius, that broadcasts artists run programmes and films that you would not see anywhere in Lithuania and will not find on the internet.
On 15 December at 8pm you are invited to come and see all 49 programmes and artists' films broadcast during between 2004–2005. In the black and white spaces of the CAC you will not only have an opportunity to see what you want to see but also to meet the makers of CAC TV and to become one. Therefore bring with you something that you want to show on CAC TV.
Super-films and super-artists
During 2004 and 2005 CAC TV broadcast works by international artists as Muntadas, Laurel Nakadate, Jennifer Allora & Guillermo Calzadilla, Gabriel Lester, Christian Jankowski, Una Szeemann, Pierre Bismuth, John Baldessari, Reverend Billy, Katrina Neiburga, Amiga TV (Pablo Leon de la Barra), Catherine Forster, Sara Jordeno, Gints Gabrans, Julika Rudelius, Jakup Ferri, Nicolas Trembley, John Miller & Richard Hoeck, Esto TV, Robert Cauble, Cane Capovolta, Johan Grimonprez, Rainer Ganahl, Matias Faldbacken, Alex Bag, Joe Scanlan, Melvin Moti, Oliver Michaels, Warren Neidich, Dieter Lesage, Miklos Ehardt, Sarah Tripp, Pink Bloque, Sean Snyder, N.I.C.J.O.B., Jeroen Kooijmans as well as Lithuanian videos and projects by Gintaras Makarevičius, Eglė Budvytytė, Dainius Liškevičius, Inga Kaupelytė and Rudolfas Levulis, Evaldas Jansas, Eglė Rakauskaitė, Emilis Vėlyvis, Akvilė Anglickaitė, Darius Mikšys, Darius Žiūra, Kristina Inčiūraitė, Rokas Tarabilda, Andrius Go Kirvėla, So Called Records and others.
Here follows a list of professional and non-professional analysts and activists, enthusiastic TV skeptics who have been involved in discussions, events, production and programming. Among them are a guest director for one episode Daiva Bilinskienė, leader of a band Inculto Jurgis Diziulis, a new star of graphic design Povilas Utovka, choreographer Algirdas Stravinskas, fashion designer Sandra Straukaitė, sculptor Duonis and numerous others.
All of the films and projects intended to shed light upon the context of contemporary art (or to employ art as a means to experience mass media and other realities) have merged with the intentions of a fluid CAC TV team to rediscover the format of a TV programme with every new broadcast. The project made its debut on 1 October 2004 with a new TV genre – a reality meta-show (a show about making a show), and the slogan 'Every programme is a pilot. Every programme is the final episode'. New formats of a programme appeared with every new broadcast, their hybrids merged with the programme of artists films and their comments, and later the genre of CAC TV could not be defined any more; nevertheless, in the spring of 2005 CAC TV introduced one more pure, non-existent yet format: an artist's programme. Deimantas Narkevicius and Evaldas Jansas were the first to produce them.
The readers of www.ore.lt forum have already called CAC TV 'an invisible television', and the gallerist Vita Zaman-Cookson has said it is an 'intervention to normality'. The very first comment received from the audience was 'Beavis and Butthead Doing Dogma in Vilnius'. Editor of the Dutch magazine Metropolis M has included CAC TV to her top 5 of 2005 in Frieze magazine. According to her, CAC TV is 'remarkably unsullied, on occasion silly, always transparent, self mocking and, at times, dark. Its own demise calculated in its root, it describes itself in episode 2 as "a multidimensional street, (where) every programme is the final episode". Many events and discussions with guest curators and artists coming though Vilnius are recorded in or around the CAC kitchen, or, say, in a car. As if to say we're on the road, going somewhere, we'll see where, which makes it all very much an in-crowd affair without being in-crowd, like voyeurism without a total lack of content. Granted it creates a hype around a community but a community where things seem, at the risk of sounding like a Nike commercial, possible and doable; simply. And because it's so candidly homemade and so openly in a state of trying to find itself (of becoming), CAC TV's brazen self-absorbedness becomes acceptable. The viewer sees how someone IS instead of only hearing what it is they have to SAY.'
CAC TV has been introduced on multiple occasions in various artistic venues including ICA London, Iaspis (Stockholm, Sweden), BAK (Utrecht, Hollland), Venice Architecture University (Italy), Slade School of Visual Arts (London, UK). The programme has recently been invited to make live events in the International Rotterdam Film Festival in January 2006.
The missing programme
The programme with this title has already been broadcast and you will be able to see it during the CAC TV Night, but the TV season continues and the project invites all potential TV producers to join in. One thing that you will have to know besides that the programme is 25 minutes long is that it tends to be (and promote) a genre of infotainment. The second thing is that the programme and its programming relies on the method of black boxing that emerged from the interview between Rene Gabri and Manuel De Landa. What is black boxing? It's not boxing. It's an attempt to understand how the machines work: the machines of social relationships, brain, art.
Are we watching a TV programme about black boxing?
Always.
CAC TV programmes will be available on DVDs in exchange for anything (material, footage, suggestion, appointment, …) for CAC TV. CAC Café will be open throughout the CAC TV Night. Please drop in for a moment if you wish but feel free to stay as well. The event won't be over before 3am.
The event is organised with support from TV1, Užupio radijas, Pravda , ClearChannel, Flexpro, Carlsberg.
No entrance fee.
For a week after the CAC TV the programmes will be running among the other exhibitions at the Contemporary Art Centre.
For more information please see www.cac.lt or email to [email protected].