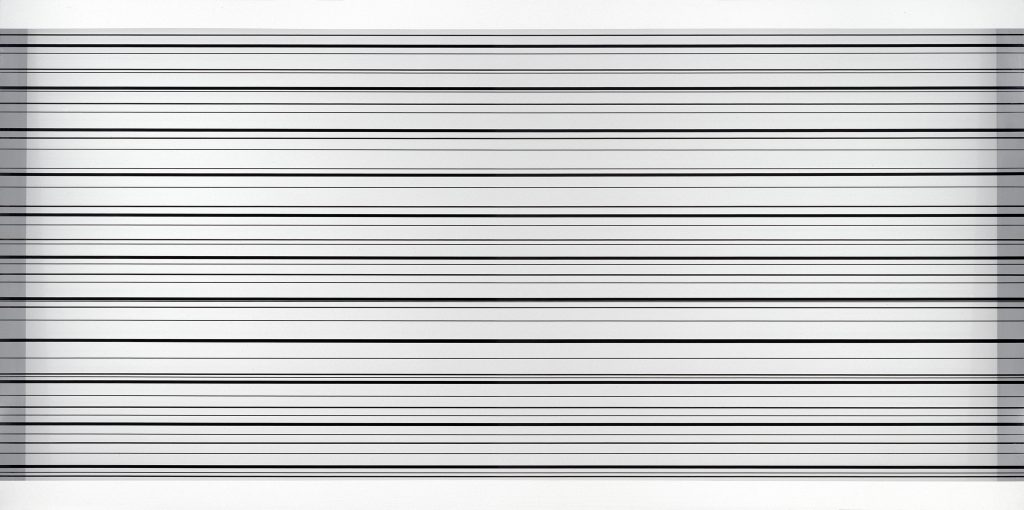 Opening: Friday 4 February, 6 pm (press conference at 5 pm)
The Contemporary Art Centre and Goethe-Institut Vilnius are happy to present the work of Carsten Nicolai.
His show Pionier, on display in the Contemporary Art Centre, is titled after one of the exhibited works – an ephemeral installation featuring a huge parachute, presented to the public for the first time. The notion "pioneer" marks the experimental nature of Nicolai's work – his exhibitions resemble scientific laboratories where various calculations and tests with partly open results are performed.
Carsten Nicolai frequently uses geometrical, optical, ornamental structures, yet his works are not limited to explorations of form. He seeks to demonstrate the internal configuration of a form and reveal the physical processes and formulas that underlie different natural phenomena. The artist often bases his work on oscillation physics and converts frequencies into images or transforms acoustic signals into optical structures, thus making the invisible visible. In the exhibition Pionier, words uttered by Laurie Anderson are materialised as aluminium sculptures, burning gas in a transparent tube visualises the speed of acoustic waves, the usually unseen heat waves become visible with the help of light and shadow, while the video work demonstrates the phenomenon of stealth that resembles military technology to prevent detection of information.
Although the artist's creative method is based on theories from mathematics, physics and natural science, he attributes equal importance to the concepts of chance and error. Many of his sound and visual works employ a mathematical rule or a module that enables self-generating creative processes. The same methods are common in his musical experiments, in which the artist creates live sound and visual structures that interact with each other (Carsten Nicolai is known in the world of electronic music as alva noto). The audience of the audiovisual performance unitxt, to be presented in Vilnius and Kaunas, will have a chance to experience this. alva noto collaborated on this work with the French sound poet Anne-James Chaton, Ryuichi Sakamoto and Blixa Bargeld; a preview of unitxt concept was already released as a remix track for the Björk cd-s release Innocence from the latest Björk/Timbaland album Volta (2007). The artist will tell more about the principles of his work during the open meeting with the public.
alva noto. unitxt – audiovisual performance:
Saturday 5 February, 8 pm, CAC, Vokiečių g. 2, Vilnius
Sunday 6 February, 6 pm, Business Leaders Centre, Donelaičio g. 62, Kaunas
Public lecture by Carsten Nicolai:
Monday, February 7, 1 pm, Academy of Arts, Maironio g. 6, Vilnius
Organisers:
Contemporary Art Centre and Goethe-Institut, Vilnius
Presentation of Carsten Nicolai's work in Lithuania is supported by Federal Foreign Office of Germany
Media sponsors:
LRT
15min
Flexpro
Image: Carsten Nicolai. magnetic static 02, 2005
Photo: Uwe Walter
Courtesy Galerie EIGEN + ART Leipzig/Berlin and The Pace Gallery